Fighting Stage IV Cancer: Keri Barber's Story
"I was gonna have to live with a disease for the rest of my life."
The day was Aug. 24, 2018. The days of the summer were dying down as September rolled in closer and closer. It had reached 83 degrees Fahrenheit at noon, but it was starting to cool down – a very welcome relief from the heat.
Keri Barber was at St. Mary's Medical Center receiving news that would change her life forever. She was suffering some kind of illness, but her doctor wasn't sure. They had a colonoscopy done, and a few tests were run. "I was so mad, I was gonna have to live with a disease for the rest of my life," she thought to herself.
After some waiting, her doctor walked in the office room with a grim look on her face.
The conversation that ensued flipped Barber's world 180-degrees."I am floored you have cancer," her doctor told her. "I was in disbelief and in denial, it didn't make sense," recalled Barber.
The official diagnosis was metastatic colon cancer.
When Barber left the medical center that day, the world felt much colder.
"I just wanted to read about Shakespeare and teach…"
Barber is an associate professor at Bucks who always tries her best to be a support for students who struggle in school. "My mission is to be happy, and to make others happy," she said.
Born and raised on the west coast in California, Barber was raised in a troubled Catholic family. Her parents didn't connect with each other, and so that would transfer into the love Barber received – not much. "I barely heard an 'I love you' from my parents," she said. Their family moved between Washington state and California every couple of years before they finally moved to Montana.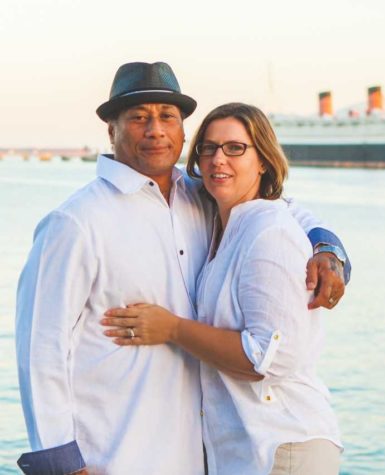 In Montana, the parents bought 14 acres of land. There was no running water and no working plumbing, so the bathroom was an outhouse on the property. "It wasn't great," she said. They lived there for a while before Barber's father sold his tools to move out.
Her parents have been divorced for 20 years now. "They can't stand to be in the same room with each other, even today," she said.
Barber was an HR director for Jacob's Engineering in California, and then became an editor and copywriter for a news-wire. She would write reports about the earnings companies would send to her, and then they would be published. "Honestly, the thing we worried about messing up was 'public' in a report, we didn't want to spell 'pubic.'"
"It was so boring, I just wanted to read about Shakespeare and teach," she said. She earned her doctorate in English Literature during the 18th and 20th centuries. She then heard about a teaching position at a community college in Pennsylvania, which she simply had to go and do. She took a 40-hour road trip with her husband and two cats across the country to Bucks County, Pennsylvania.
"During the trip, we passed by some mountains in New Mexico," Barber told, "and the cats were screaming because the air pressure difference was getting to their ears." Her husband vowed to never do that again. "Whenever we visit California, we can never do car trips."
"They thought they had caught it just in time."
She has been a Language and Literature professor at Bucks for the past 10 years. At the beginning of the fall 2018 semester, she learned she had Stage IV Colon Cancer. It took two months of tests and colonoscopies to confirm the diagnosis, "but my doctor knew immediately that it was cancer," she said. "They thought they had caught it just in time."
Chemotherapy didn't shrink the mass the first time around, and so they were concerned. A scan of her liver showed it had likely spread three times. Her cancer markers, a test of a protein produced by cancer, were at a seven, then it increased to 10. Today, it is less than one.
Through the numerous chemo-therapies, her liver doctor, Douglas Fraker, has been there for her every step of the way. "He is so soft-spoken, but very funny and positive," she said. He personally visited to check on her every day after surgery at the University of Pennsylvania Hospital. He was unlike other doctors who would only send residents to check in.
"I've always wanted to kiss Oscar Wilde's grave…"
Barber said that she feels very weak, but also "much more in tune with the world around me." Also, she really appreciates everything that has been done for her. She began to tear up.
"Everybody who knows has been so understanding and kind to me," she cried, "I am just so grateful for everything."
The English Department created a mural of cards and gave her a stuffed Bucks mascot. And every couple of days, a professor in the department leaves her food in the freezer that she may take home. Bucks itself has been understanding in giving time-off and has been very supportive.
She is also grateful for her family, which has supported her every step of the way. Her husband especially has been helping her get through the effects of cancer.
"I read a lot more," Barber mentioned. She reads a lot of WWII survival stories because, "It gives me hope, you know?" Or she's in her garden with one of her cats, Leonard. Her other cat can usually be found waddling away from even a hint of trouble.
"My goal is to continue teaching, it's what I love."
Barber still continues to be a support for her students. Not everyone can be supported she mentioned, but Barber tries her best to keep her door open to anybody who needs to talk.
She hopes to be in remission by the summer, and wants to never go through another round of chemotherapy. "It's like microwaving your liver." She also hopes that her family can get through this, and be much happier. "Cancer takes a toll."
She has plans to visit Thailand and Paris. "I've always wanted to kiss Oscar Wilde's grave and add to the collection of kisses that is there."
Even though she may be in pain, and she feels so weak, she still has that same passion for teaching. Something that she's always had hopes in keeping.
"My goal is to continue teaching, it's what I love."