Bucks Law Enforcement Event Shows How Criminal Justice is About More Than Just Crime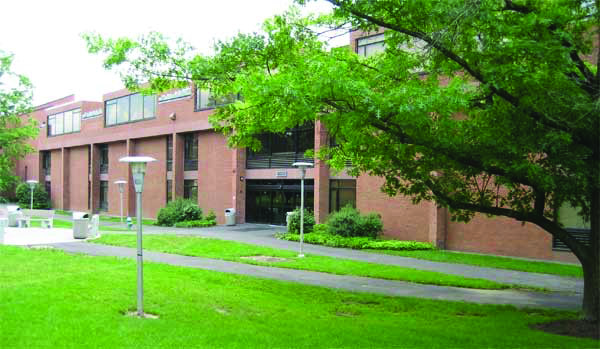 Sydne Patchell and Connor Donaghy
November 2, 2017
Bucks was host to some local
criminal justice representatives
Thursday, October 26, in an event
by Professor Sarah Jakub offering
advice and information about getting
into the field of law enforcement
and social working.
Jakub, a professor of sociology
and criminal justice, wanted to
give students a sense of what it is
like to work in the field.
At the panel was Lieutenant
Nelson Whitney, Falls Twp. Police
Dpt., Bucks County Sheriff,
Edward Donnelly, Chief David
Metting, Slate Belt Police Dpt.,
CEO/Founder of Regna Services,
Jonice Arthur, and Robert
Mancini, a Bucks County district
attorney.
"The role of the sheriff is to
transfer prisoners, serve civil
papers for lawyers, give out arrest
warrants, and transport prisoners."
said Sheriff Donnelly. He stated
that his job requires a lot of paperwork
and he's always busy.
Sheriff Donnelly has transferred
over twenty-thousand prisoners,
ordered nine-thousand bench warrants,
and handles all the administrative
work. Bucks County has
fifty-seven deputies who are hired
by the Sheriff. A sheriff is elected
every year with Donnelly in the
running for the next election to be
held next month.
Chief Dave Mette described his
department of having twenty-one
police officers who are on call
twenty-four hours a day, seven
days a week. His department
looks for the "brightest and the
best", he said. Both a written
and physical exam are given
to those training to be hired as
officers.
Jonice Arthur, CEO and
Founder of Regna Services,
works closely with at-risk youth
and visits the Bucks County
Youth Detention Center.
Arthur said that "if the emotion
is the problem then that's
what needs to be handled."
She continued to state the vast
amount of trauma associated
with criminals. She stated that
"98% of female offenders have
experienced trauma, and that
70% of foster children experience
trauma."
"It's not always easy, you
have to have a passion for what
you do," Arthur says. Arthur
was inspired by her own background
to become a social worker.
Growing up in a dysfunctional
household, Arthur made it her
mission to help those in similar
positions after being inspired by
the social workers who helped her
family.
"You have to teach, share
knowledge, be a good public
speaker, and passionate about
what you do", Jonice proclaimed.
"If you love what you do, you
never work a day in your life",
Arthur said.
In her work, she emphasized
how important it is to show people
you care. For anyone looking
into the psychology field, she said
that the job is perfect for "Anyone
that loves to teach and who loves
to give and share knowledge."
The discussion continued with
each professional describing how
they work together.
"We need to work closely with
social workers", said Lieutenant
Whitney of the Falls Township
Police Department. He said that
his department works to help
improve the lives of mentally ill
with the help of social workers.
"I love my job because I can
make a difference", Whitney said.
The discussion then turned to
the ongoing opioid epidemic.
Bucks County has seen a staggering
increase in opioid-related
overdoses and the panel discussed
how they feel they can reverse
this trend and help put a stop to
this epidemic.
"People use drugs to cope.
Many use drugs to sedate emotional
tie, you can beat addiction
if you deal with personal feelings",
Jonice Arthur said who
battled a cocaine addiction in her
youth but now works to improve
the lives of those battling with
substance abuse problems.
"We need to make sure families
stay functional. Everyone has to
work together", Lieutenant Whitney
said of the epidemic.
"People need to know the genetic
history of addiction in families
and limit prescriptions of opioid
painkillers. Stop the dealers and
work together as a team to get
that poison off the street", said
Whitney.
Professor Jakub asked the panel
what can be done about the heroin
epidemic. She questioned, "How
do we get it to stop?" The panel
followed with explaining the desire
and pull to these narcotics.
"These people have not been
heard," Mancini said. His final
thought was, "People do not care
what you know until they know
that you care."
The panel concluded with inspirational
messages of never giving
up and not being discouraged.
Many in the panel, had other
career plans, but found social
services and criminal justice to
be their calling and began their
careers later in life.