Tibetan Refugee Monks Return to Bucks Solarium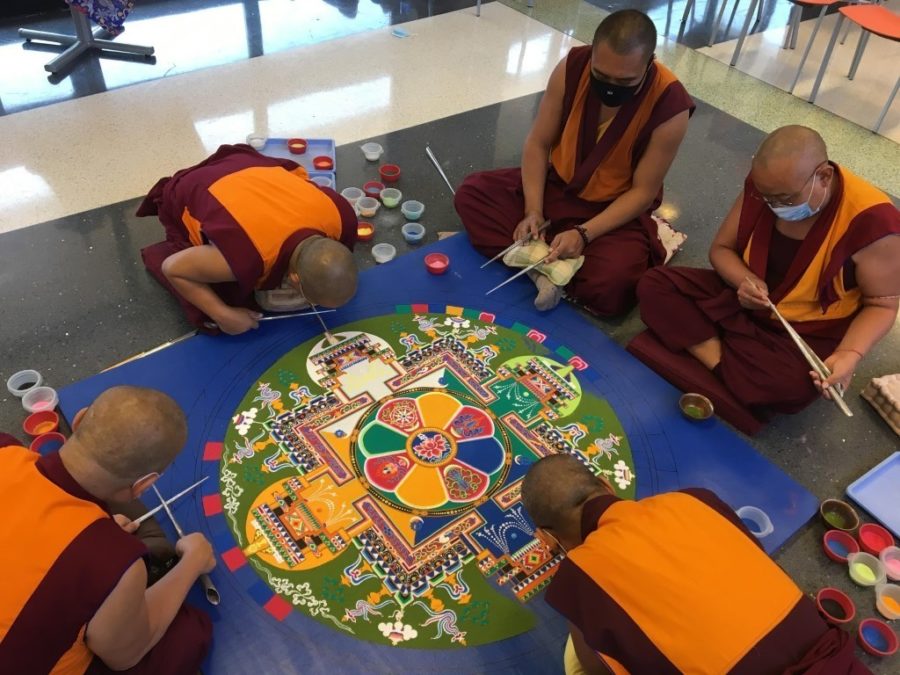 Tibetan monks arrived on Sept. 16 to create a mandala sand sculpture over a five days period that represented compassion, a trait that all the monks believe we should all carry throughout our daily lives to achieve a pure mind.
In the late 1950's China began to take complete control of Tibet, a Chinese province at the time. Tibetans rebelled against the Chinese rule, leaving thousands killed.
His Holiness the Dalai Lama, Tenzin Gyatso, left Tibet and moved to India in fear that the Chinese would slaughter him just as they did with his people. There he created a society where Tibetan refugees could have the arts, culture, and languages from their previous home.
This is where the Tibetan monks, who graciously came to Bucks County, had their monastery in southern India.
The Tibetan monks from the Drepung Gomang Monastery started to build a beautiful sand sculpture in the shape of a mandala. The monks who created this art appeared very gentle and peaceful, even when knowing the disturbances occurring at their home.
Each monk wore the traditional yellow and red robes while creating this three-dimensional art masterpiece. They kneeled on pillows without shoes and worked on different sections at a time. They did this by using small, narrow instruments to place a few sand pieces at a time. This lasted throughout the entirety of the week.
At the end of the week, when the mandala was completed, the monks swept the art into a pile to release into the Neshaminy Creek. This was not only to show that not everything in life lasts, but to spread compassion through the river, and therefore the surrounding area.
Fran Orlando, the Director of the Artmobile and the Hicks Art Center Gallery said that the Tibetan monks have been coming to Bucks since 2002.
"For me personally, someone who is used to artwork that you preserve, the idea of impermanence to the art was really moving to me," said Orlando
This seemed to be the common idea that was going through people's minds. A custodian who was passing by quickly said in disbelief, "you look at this and then you look at modern art" and then paused and shrugged with a simple smile as if to say there was no comparison.
Most people agreed that watching the monks was a mind-altering experience, and one to grow from.
Minyak Rinpoche from the Drepung Gomang Monastery said, "every human wants to be enlightened," he continued, "we need a great practice in forgiveness."
Rinpoche was chosen at the age of five from the Dalai Lama to become a monk and he has continued the practice for almost 40 years. His beliefs focus on "for one to have a pure mind there must be compassion."
Rinpoche was very enthusiastic to talk about his life as a monk to the crowd of people who had gathered around to discover more.
"In our current world we do allow ourselves to have some items that grow with time, it's important to not look at everything as materialistic," said Rinpoche.
He then pointed to a monk working on the mandala; this monk had air pods in his ears. Everyone completed the calming essence of the room with gleeful laughter.