Bucks Cross Country Team Seeks New Members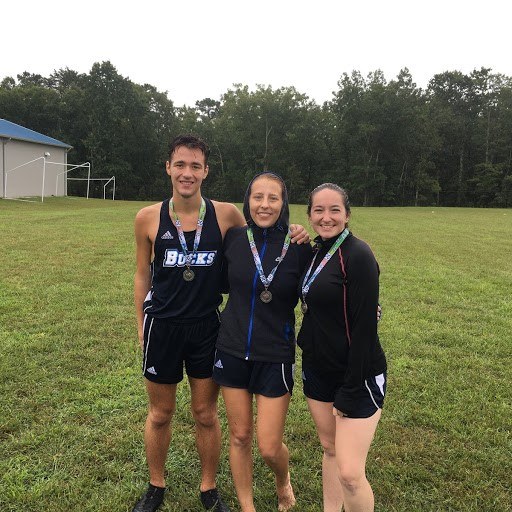 Hang on for a minute...we're trying to find some more stories you might like.
After a 25-year hiatus, the Bucks Cross Country team is back and looking for runners to help rebuild the successful franchise from scratch.
"We're trying to re-establish ourselves in the conference," Bucks Cross Country coach Brian Thomas says. "We need to achieve enough success this season to keep the momentum going and to keep building."
Some key runners for the team have achieved freshman eligibility, while others are still awaiting this feat. Two key female runners for the Centurions this season are Reland Saugling, who previously ran at Quakertown High School, and Patricia Higgins, who previously ran at Bensalem High School.
Both girls are freshman runners, indicating that this is their first year eligible for potential scoring. "While there are not enough girls for team scoring, they are going to work on their individual times and help lead the team," said Thomas. A minimum of three more female runners are needed in order for the women to be eligible for team scoring, since team scoring requires five runners on the team.
As for the men, the team has reached the amount of runners needed for scoring. Looking to lead the men's side to success are freshman runners, including Levittown's Matthew Calderone, an alum runner of Bucks County Technical High School; Morrisville's Andrew Clark, of Pennsbury High School; and Quakertown's Logan Saugling, of Quakertown High School.
Over the weekend of Sept. 8, the team ran at the Cumberland Dukes Invitational. "Both girls earned medals," explains Thomas. "As a team, we walked away with three." Saugling finished fourth in the women's meet as Higgins placed 13th. After a battle with the wet weather, Saugling's time was a modest 24:03.60 with Higgins clocking in close behind at 26:28.67.
The third medalist, Logan Saugling, brother of female runner Reland Saugling, finished with a time of 21:33.95, securing him a seventh place finish in the men's meet. Fellow male runners, Calderone and Clark, finished with times of 21:33.95 and 24:21.54.
After a successful first meet at Cumberland, the Centurions now prepare to compete at the Delaware Valley University Invitational on the weekend of Sept. 22 with more meets to follow.
Thomas confirmed that the team is off to a good start, and the team as a whole is looking for this season to be the foundation for years to come. "It typically takes about three years to build a team," said Coach Brian Thomas. "This is the first step in establishing ourselves in the conference once again."
With fresh eyes, the team sees squad achievements as well as individual success in the near future. "We're looking for people who are interested in joining, whether they have experience or not," Thomas noted. "For scoring purposes, or for individual growth, students are still welcome to come out for the team and help reinvent the Bucks Cross Country squad."
For more information on the Bucks Cross Country team and this season's schedule, visit the Bucks Athletics website at athletics.bucks.edu.