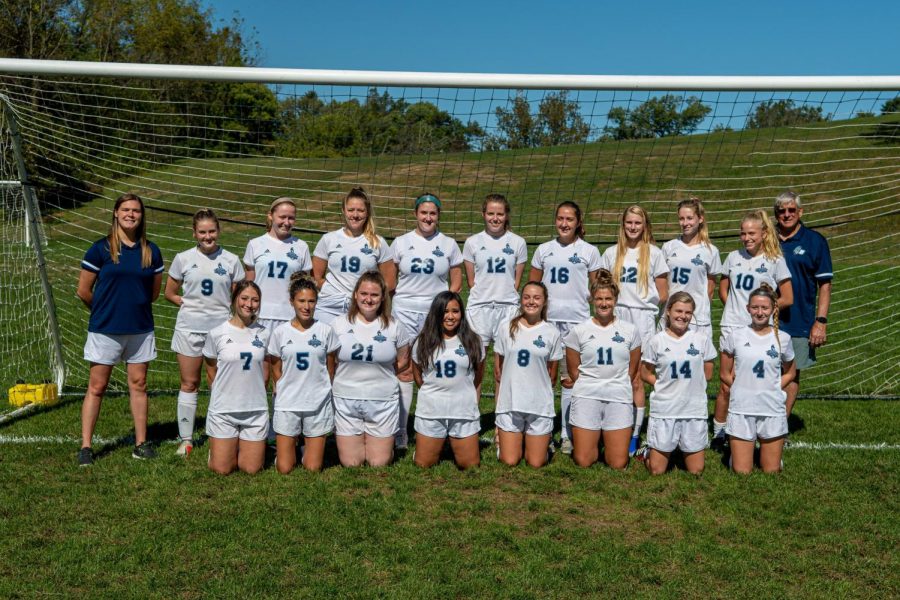 The Bucks women's soccer team didn't get the start to their season that they were hoping for as they fell short in their opening game against Camden County College on Sep 14, losing 2-0.
After having the next game against Montgomery County Community College postponed, the Lady Centurions bounced back in a big way with a 10-1 blowout against Manor College.
Bucks scored almost at will. Both teams were banged up, but the Centurions were just a bit more prepared to control the flow of the game. It took just two minutes for the visiting Centurions to get on the board as Kelsey Hodges (Fr.) scored her first of her three goals of the day to earn herself a hat trick.
Our Centurions did not stop there as Ivy Peterson (Fr.) would also go on to net a hat trick. Goals from Paola Palomino (Fr.), Madeline Doyle (So.), and Allison Dyson (Fr.) also helped the Centurions extend their lead. Sophomore goalkeeper, Alyssa Miller, was great in net saving six goals on seven shots and getting the win.
"We played very well today," stated Head Coach Russell Fager, "I'm very proud of the young ladies and they have improved so much in a short time."
The Centurions are facing a season of obstacles including the COVID protocols and a limited roster of only 11 girls.
"The team is very young," said head coach Russell Fager as he talked about the upcoming season. "They're working hard, learning about the game, and improving their skills. All I ask is that they keep working hard and never quit."
When asked what his mindset was heading into this season coach Fager responded "My mindset is to do my best to make the program as successful as possible. It will be difficult with all the COVID protocols and all that can happen during the season."
The former Rider University coach added. "I have only had the opportunity to coach for one season then COVID hit."
Even in his first season as head coach two seasons ago, Fager was able to gather enough ladies to make a full squad and used his expertise to qualify for the playoffs.
Justin Burroughs, Assistant Director of athletics as well as the head coach of the Bucks men's soccer team, gave his insight on the new season for the girls.
"We have a brand-new group of talented, spirited, and hardworking women," Burroughs mentioned. "They will certainly build a strong foundation for the program."
Coach Burroughs expressed his excitement for the future of the women's team, adding "If they stay around for next year, they will do amazing things."
Burroughs also showed his respect and optimism toward coach.
"He (Fager) is very experienced with leading division 1, Rider University for many years and coaching one of the premier club teams in the country."
The last two games in September were unfortunately cancelled. Regardless, the Centurions will be back in action when they head to Middlesex County Community College to take on the Blue Colts in their next game on Saturday Oct. 16. at 2:00 PM.