Transfer Fair in Linksz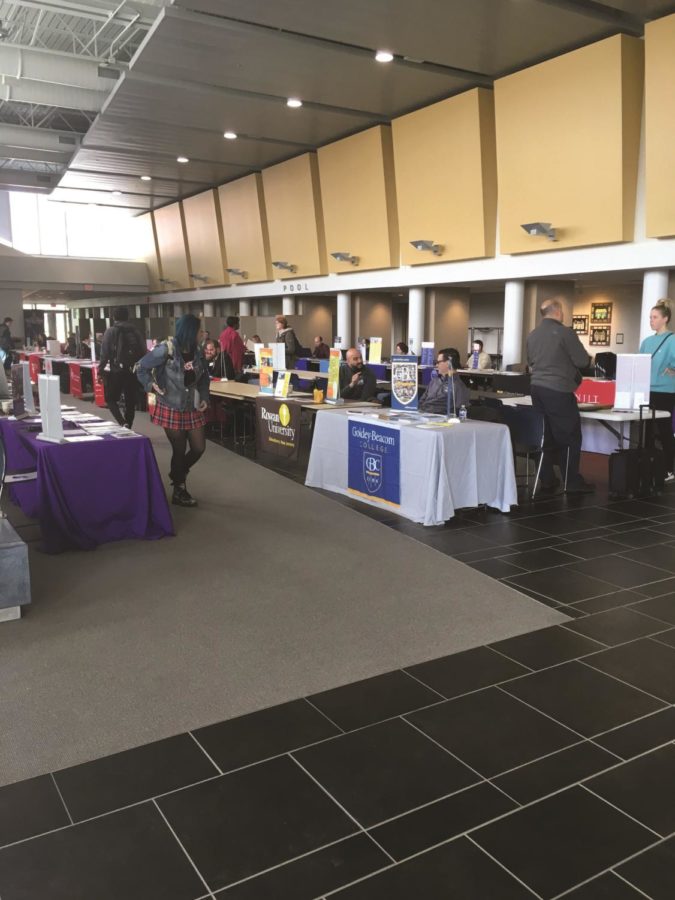 Zach Willits and Leslie Wonokay
December 6, 2018
On Thursday various universities had representatives set up ready to talk at the Newtown Campus transfer fair. From Albright to Wilmington university, students had the opportunity to learn all about possible universities to transfer after finishing up at Bucks.
The world of universities can be overwhelming and even a little scary, so Bucks decided to make it easy for students to sort out their futures in the academic world with events like this. Whether they're concerned about price, distance, accessibility, educational opportunities, or otherwise, students could have their questions answered at the transfer fair.
The fair was from 9:30 a.m. to 12:30 p.m. and was held in the Linksz Pavilion. Some of the visiting colleges included Temple, West Chester, Rider, Holy Family, and Bloomsberg.
All throughout the Linksz was a huge set up of different colleges and universities at their tables. The students and representatives alike were eager to learn and exchange information. Every college had a set-up of the college brochure, some had gifts like pens and magnets, and many had signs.
One of the colleges in attendance was Pierce college, a business college located in center city. The representative for Pierce college spoke about how flexible the college is and he explained that they offer a unique learning format where students can choose to learn online from home or come to their city campus.
Sue-Ann Robbins, Director of Graduate and Transfer Admissions for York college, explained "If you're looking for a medium size class than this is for you York college has 4500 students and is two hours west from Bucks college community college."
Robbins continued, "York college is very transfer friendly the campus has 190 acres of beautiful suburban campus and has 100 plus clubs and organizations."
Many other schools were present at the fair and it is clear that Bucks students certainly had a wonderful opportunity at that fair, with many friendly and informative representatives ready to help curious students.