Murphy wins re-election easily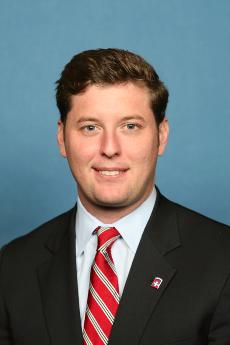 Hang on for a minute...we're trying to find some more stories you might like.
On Tues, U.S. Rep. Patrick
Murphy won a second term
in the House of
Representative. Murphy represents
the 8th Congressional
District of Pennsylvania, consisting
of Bucks County and a
small portion of Montgomery
County and far Northeast
Philadelphia.
Murphy, 34, the only Iraq
war veteran in Congress, followed
the nationwide trend
of Democratic victories.
Murphy received a solid victory
of 56.8 percent or
197,168 votes.
Republican opponent Tom
Manion came in a distant second
with 41.7 percent,
144,732 votes. Independent
perennial candidate Tom
Lingenfelter came in last with
5,509 votes, 1.6 percent of the
total.
During eight debates and
his frequently-aired and positive
TV ads, Murphy focused
on his accomplishments and
plans for the 8th District. His
talking points included bringing
in green energy jobs, such
as the windmill factory and
solar panel field now in Bucks
County, as well as improving
veterans benefits and providing
flood relief for Yardley.
To appeal to Republicans,
Murphy also promoted himself
as a fiscally conservative
"blue dog Democrat" and as
someone who "votes my conscience
and not my party."
Murphy also campaigned
on Obama's theme of change
by saying, "If you want more
of the same, if you want more
of the status quo, than I'm not
your guy. But if you want
something different from
what Bush has been doing for
the past eight years, than I'd
appreciate your vote."
Manion's message was
quite different.
Without any prior experience
in government at the age
of 54, Manion promoted himself
as a citizen legislator with
prior ties to the GOP and as
someone with two successful
careers, one of which was
serving 30 years in the U.S.
Marines.
Manion's son Travis, 26,
died fighting in Iraq last year
and Manion said that was
his inspiration to run for congress.
He said because of his
son's sacrifice, he personally
understood the costs of war
and would consider his personal
loss in his decisions
about war.
The rest of Manion's rhetoric
was based on attacking
Murphy, including negative
TV ads about Murphy's
opposition to offshore
drilling and ads accusing
Murphy of a fundraising
scandal.
During the debates, Manion
said that Murphy was part of
a "do-nothing congress" that
failed to solve any of the
major current issues such as
health care, the economy or
social security. Manion also
said that Murphy exaggerated
his role in the introduction
of green energy jobs to the
area.
Critics have complained
that Manion has concentrated
on national issues and missed
the key local issues.
Lingenfelter, 70,
acknowledged his poor
chances of winning and
explained his reason for
running, saying, "I do it
because I am very concerned
and no one else is
doing anything. People
are all talk and nothing
gets done. People criticize
me for running.
People just want to sit
back and complain."
Lingenfelter's message
focused on distrust of the
two-party system, claiming
that both parties are
controlled by special interests
and are the cause of all our
problems. "The Republicans
will tell you the Democrats
are at fault. The Democrats
will tell you the Republicans
are at fault," he said.
"They're both right."
Murphy's solid 15-point
victory is a significant shift
from his first victory in 2006,
against Republican incumbent
Michael Fitzpatrick, in
which Murphy won by only
1,521 votes – less than 1 percent.