22-year-old Tyler Kline becomes youngest Poet Laureate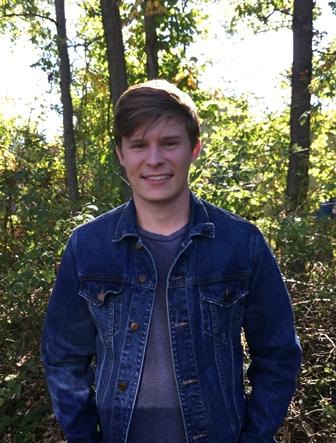 Hang on for a minute...we're trying to find some more stories you might like.
Tyler Kline, 22, became the youngest Bucks County Poet Laureate to date this year. He has been writing poetry for less than four years and became serious about writing and submitting his poems after two.
He described his title as 2015 Poet Laureate an honor and a privilege. "To be the youngest Poet Laureate to date is both a tremendous and slightly overwhelming title. There are legacies of incredible Laureates that I now have a connection to and even this fact is wild to consider," said Kline.
Kline hopes he can dutifully fulfill his role as the Poet Laureate and wishes to make the contest judges and Bucks County community proud.
"I first learned about poetry in this County and I subsequently wrote my first poem here. It is an unbelievable feeling to see community members connecting to my poetry that is so rooted in home."
He credits his mother, Janice Kline, for encouraging him to enter the contest. Janice Kline has worked in education since Kline's childhood. "She instilled a love for writing and the arts in me," Kline wrote.
Kline's mother encouraged him to enter the Poet Laureate contest for the first time in his freshman year of college. "Back then, I had barely started writing and had little to no idea what I was doing. However, my mom kept encouraging me to enter the Laureate contest," Kline recalled, "Her, along with my father's inspiration, have never run quiet," said Kline.
Multiple mentors helped Kline shape himself as a poet. Rob Tractenberg, an English teacher at C.B. West, made poetry accessible and was "able to translate his enthusiasm and passion to his students, making a difference to even the most reluctant and hesitant writers," according to Kline.
Katherine Semisch, another C.B. West English teacher, introduced him to many English concepts, "but most importantly how to live and learn mindfully."
Professor Devon Miller-Duggan of the University of Delaware pushed Kline to take his writing to the next level. They regularly meet and workshop together.
Contemporary poets like Matthew Dickman inspired Kline to "sit down with a pen and paper and try writing in this strange galaxy called a 'poem'".
Kline describes his writing as Americana with a similar tone to the art of Andrew Wyeth. It is heavily influenced by his Bucks County upbringing. Much of it focuses on suburbia/rural life, boyhood, and communal interaction. "I find comfort and meaning in writing about what I know: what it's like to grow up as a boy or what it's like to be so close to nature," said Kline.
Kline estimates that the words that appear most frequently in his poems are deer, moon, town, home, bird, boy, and girl. Lately he has been particularly interested in deer. In one of his favorite images from a recent poem, he described "a group of teenage boys as deer and an older boy is handing out cigarettes from behind his antlers." Kline explained that this image fit well with the tendency for adolescents to congregate and not say much, but instead just welcoming the communal presence of others."
Metaphor is Kline's favorite part about writing. He sees metaphors as important form of expression that people use daily, "to make sense of the world in which they live." He believes his metaphors make his poetry stand out.
"Much of what I write is an attempt to make sense of my surroundings through metaphors that oftentimes are bizarre, but just rounded enough to hopefully make that connection with the reader."
Kline advises aspiring poets to read poems every day, "Go to your local library and take a book of poems off the shelf that you've never heard of. See what that poet is doing, whether you connect with their writing or not. Discover your favorite poets and poems. Hang those poems on your walls, by your desk, above your sink so when you brush your teeth you are able to read them everyday." He believes that in order to improve reading poetry is equally, if not more, important than writing it.
Kline describes his writing ritual as fluid and inconsistent, but makes sure to devote an hour to writing every day. He suggests devoting time even if you don't think you have anything to write about. "Follow your thoughts, jot down words or phrases that come to mind. Collect daily experiences and images and go back to them every couple days in order to make sense of them and eventually write something about them if you feel inclined," said Kline.
BCCC welcomed Kline to a poetry reading and reception held at the Newtown campus on Nov. 15. Kline has future plans involving his chapbook "As Men Do Around Knives" which will be released by ELJ Publications in May 2016. It will be a compilation of 12 to 15 poems with an Americana, hometown feel. It will include many of the poems he submitted to the Bucks County Poet Laureate contest.