Solebury Murders: Sean Kratz Faces a Jury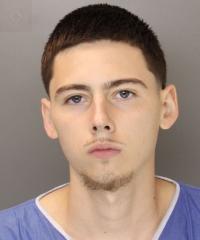 The trial for Sean Kratz who is accused of helping his cousin, Cosmo DiNardo kill three young in Solebury Township in 2017 began on Nov. 6 at the Bucks County Courthouse.
Kratz faces the death penalty if found guilty for a role in the 2017 murder case. DiNardo was set to testify against his cousin but prosecutors revealed he refused to appear in court. DiNardo is currently serving four life sentences for the crimes.
On Nov.7, the coroner and leading forensic pathologist, Dr. Ian Hood, testified to the nature of the murders. Hood shared graphic photos of the victims' burned bodies and the tattoos detectives used to identify and match names. He determined how each young man was killed.
"The defendant stood there cold watching, not screaming for help, watching," prosecutors said.
Defense attorney A. Charles Puerto argued that Kratz was crippled due to a leg injury at the time of murders and was not able to protect himself. Puerto told the jury that Kratz was "as thin as a rail" and not did have the strength to assist in the murders. The defense also stated that with an IQ of 79, Kratz did not have the mental capacity to help DiNardo. Puerto added that Kratz was fearful for his life and feared what DiNardo would do to him if he was not compliant.
"He thought every second with Cosmo could be his last," said Puerto.
James Cartagana, a longtime employee of the DiNardo's company testified that he witnessed Kratz using a heavy-duty pressure washer after the night of July 7.
"They'd have to be pretty strong and stable to use it, it's a two-hand tool," said Cartagana.
Cartagana described how DiNardo's ATV accident that happened years prior had affected him.
"He wasn't the same kid, it was like his brain was being rewired, or it had short circuited or something. People can take advantage of you when you're in that state of mind," said Cartagana. "Either way No one wins in this case, all those families lost sons, The DiNardo's lost a son, nobody wins either way."
Phone records showed that Kratz and Cosmo spent several days together prior and after the crimes. Including jersey shore trips for the fourth of July and dinner at a stake restaurant after the massacre.
The defense asked witnesses who had seen Kratz close to the days of the of the murders if he was limping or using a cane. All witnesses stated they saw no problems with his legs. One detective who interviewed Kratz days after the event had thought Kratz was embellishing his injuries.
The jury was shown Kratz's 2017 interrogation video. In the tape Kratz originally denied having any direct involvement with the killing of the victims. Later Kratz's mother, Vanessa Amodei, was brought into the interrogation room. She begged her son to tell the truth and Kratz disclosed the location of the guns used in the crimes.
This case continues to shock residents across Bucks.