The Artmobile dumpster show is on the move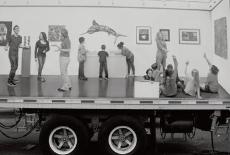 A ukulele made from an old
mango can, an eagle made of
spoons, and a gown made entirely
out of plastic shopping bags will
be among the works of art traveling
outside the Newtown campus
this week, as Artmobile, the art
museum on wheels, takes its
newest exhibition on the road.
Artmobile is a museum outreach
program run by the Department
of the Arts at Bucks and
sponsored by the Pennsylvania
Council on the Arts.
The museum's mission is to
make art more accessible to students
by bringing works directly
to elementary schools, middle
schools, and high schools.
This year's exhibit, "Trans-
FORMations," features the work
of artists who recycle found objects
by transforming them into
art.
Many of the artists involved in
"TransFORMations" belong to
the Dumpster Divers of Philadelphia,
a collective of professional
artists working with found objects.
Betsy Alexander and Burnell
Yow are two members of The
Dumpster Divers who have pieces
in "TransFORMations."
"There is so much good trash
out there," said Alexander, the creator
of the plastic bag dress. "It's
just amazing what you can make
with junk."
Yow has two mixed-media collages
in "TransFORMations."
One piece is a shallow wooden
box washed in copper-colored
paint and adorned with abstract
shapes.
A patch of chicken wire and a
bronze miniature of a rooster lie
pinned to the box. The outside
edge of the box reads, "Don't be a
chicken. Make art!"
Yow, who dedicated an entire
year to creating art from found objects,
knows that courage is
needed when working with found
art. "I had to wait and go out in the
rain to pick through my neighbor's
trash, because I knew he
wouldn't be out then," he said.
Other days I would walk several
blocks before I would find something."
During their time spent creating
art from found objects, Alexander
and Yow have collected a huge
stockpile of junk in the basement
of their house. "You can hardly
walk across it," Alexander remarked.
"Even when I have all that stuff
right in front of my face, it will be
the thing that I have forgotten way
back in the corner that inspires
me," explained Yow.
Carole Cunliffe is one of Artmobile's
professional educators in
charge of guiding students
through the exhibit. " We encourage students to think about art using artistic terms.Terms like collage,assemblage, these are words they already know," said Cunliffe.
"We also encourage students to
consider the material costs of art.
We ask them about what sorts of
things; paint, paper, canvas, they
need in order to make art, and if
there are alternatives," said Cunliffe.
Educators also cover topics like
the environmental impact of art
and the problem of managing
waste.
The exhibit includes areas
where younger children can learn
about art by working hands-on
with materials.
Artmobile's first stop with
"TransFORMations" outside of
the Bucks campus will be at Kid's
Fest, an event sponsored by Senator
Chuck McIlhinney promoting
state programs geared towards
helping families.
Artmobile will return to Bucks'
Newtown Campus for one week
beginning April 29, 2010.