New James Bond movie explodes into theaters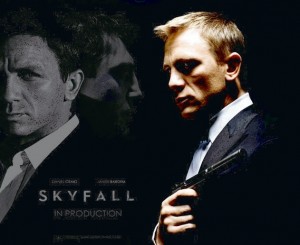 Actor Daniel Craig returned for his third turn as British Secret Agent 007 in "Skyfall," which opened to a $30.8 million top billing on Nov. 9 in the U.S.
Already eclipsing the $350 million mark in foreign theaters, when dawn broke on "Skyfall's" first weekend, and twilight was over, the film put nearly another $60 million in its coffins, er, coffers.
While those early numbers easily overshadowed nearly every film up against it – erm, except "Twilight," sigh – recent tallies place Skyfall as the highest grossing Bond film ever, earning nearly $800 million worldwide.
Now, let's talk about the actual film.
Chances are you've heard those iconic words – Bond, James Bond – fall from the lips of one of the six roguishly dashing actors who've portrayed Bond.
Be they Sean Connery, George Lazenby, Roger Moore, Timothy Dalton, Pierce Brosnan, or Craig, what remains constant throughout the 50 years of Bond films is the cool disdain with which Bond utters those now-famous words.
Even more likely imprinted on your memory are the even cooler gadgets, diabolical villains, stunning femme fatales and Bond – of course – winning the day against seemingly insurmountable odds.
Oh, and yes, getting the girl in the end…
Well, welcome to the "new" Bond.
Recently, Bond films have certainly gone the extra mile to make the genre more up-to-date and approachable to the general masses.
In "Casino Royale," Craig's first Bond film, 007 and the villain duel over a winner-take-all game of poker – Texas Hold 'em style.
In "Quantum of Solace," Bond battles an eco-terrorist hell bent on monopolizing the world's fresh water supply for his own gain.
And "Skyfall" keeps things relevant as well, pitting Bond against former MI-6 operative and cyber-terrorist, Raoul Silva.
Javier Bardem does supreme justice to his role of arch-typical villain battling wits and weapons with Craig's Bond.
(If you'd like to see more of Bardem as a villain, check him out in his Oscar-winning performance as a cold-blooded hit man in "No Country for Old Men").
Judi Dench, also an Academy Award winner, reprises her role as "M," the head of MI-6, and actor Ralph Fiennes has a memorable supporting role as well.
Ultimately, the action of "Skyfall" focuses on Silva, the criminal mastermind, as he attempts to get revenge on MI-6 and discredit it as one of the world's best intelligence agencies.
And, right on cue, it's up to 007 to thwart him as only Bond can do… blow it up, shoot it up and crash it up… you get the picture!
The coy one-liners and overzealous love interests take a relative back seat in Bond's historic Aston Martin DB5 in this one, folks.
Instead, the action is intense throughout, right from go.  Fairly common for a Bond film, you say?  Well, admittedly, yes.
But get ready for additional plot twists and turns, as some key insight into how exactly Bond became Bond is more than just hinted at.
"Skyfall," the film's name, was actually the name of Bond's family home back in Scotland.
Orphaned as a young man, Bond became a jaded and sarcastic icon whose witticisms are often as deadly as his Walther PPK.
"M" divulges a bit of what makes him so, and reveals that MI-6 purposefully targeted orphans as recruits, saying that they made the best agents.
More likely to accept and blindly adore "Queen and Country," Bond still has issues to resolve in this one, as he sees time and time again just how expendable he really is.
So, despite being 50, Bond still packs a solid punch, not just at the box office but in the plot category as well.
Buckle up, be careful you are not in the ejector seat and enjoy the ride… chances are you will be shaken, if not stirred, by this latest installment in the Bond legacy.