Local poets appear at Bucks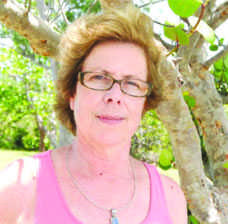 John Fey, Centurion Staff
October 21, 2014
On the evening of Oct. 3, the Newtown campus had the pleasure of holding poetry readings from three local poets as part of the school's Wordsmiths Reading Series, a free and open public reading to promote authors and their poetry.
By 7:20 p.m., the Orangery was already filled with teachers and fans of the writers. At 7:30, poet Bill Wunder was enthusiastically introduced to the crowd by Professor of Language and Literature Dr. Christopher Bursk, a poet himself and author of "The Improbable Swerving of Atoms."
Wunder, a Vietnam veteran, talked to the crowd with a voice that had a noticeable calm to it; it could be told that he has done this many times before. Themes his poems revolved around were nostalgia, war and beauty.
The 2004 Bucks County Poet Laureate read poems from his books "Pointing at the Moon" and "Hands Turning the Earth." Among them were his poems "Kitchen Junk Drawer", "The Woman who Moves the Earth," "Burning down the Village," and his emotional "Unappeasable," a eulogy to a childhood friend he lost in the war.
Wunder also captivated the audience with a poem from his work in progress, "Kingdom of Heaven," a humorous poem called "Zipphorah Decides to Divorce Moses." His delivery was done in a truly professional form.
After Wunder was seated, Bursk introduced Wendy Fulton Steiginsky, another Bucks County resident. Steiginsky, raised in Bermuda, read from her book "The Tide of Bermuda's Light," filled with poems based on her childhood and Bermuda's beautiful landscape.
Among her poems were titles like "The Tides of Bermuda's Light: for Pablo Neruda," "The Big Dipper," "A Colonial Education," "Salt Spray" and "Letting Go."
Steiginsky's reading was then followed by poet Kasey Jueds. Her book of poetry, "Keeper," was awarded the 2012 Agnes Lynch Starrett Prize. The book was first published, in small parts, in literary magazines and other such publications over the span of 10 years and then put together into her book.
Her poems from "Keeper" consisted of "To Swim," based on her childhood in Florida, "Copper," "Fair Isle," "Secondhand Swimmer," "The Missing Women," and "The Underpainting." Jueds read to the audience in such a calm voice that it felt as if there was not a bit of stage fright in her.
Bucks will be continuing its Wordsmith Series for the rest of the semester. On Nov. 7, poets Kim Addonizio and Hayden Saunier will be the series' poets of the night, starting at 7:30 p.m.