Artmobile Prepares for "Marvelous Machines" Exhibition Tour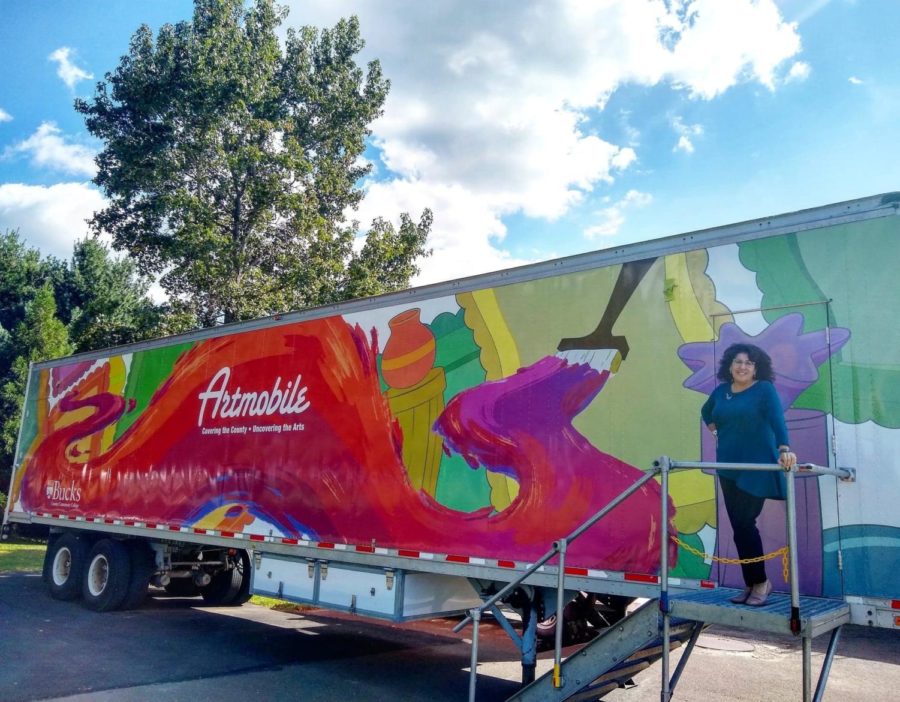 Bucks' artmobile has been renovated and is ready to hit the road once again to educate
students across Bucks County.
Artmobile is a 48-foot long semi-trailer which contains
numerous works of art, thus making it a museum on wheels. This vehicle travels for two years at a time and is able to visit all 13 school districts in Bucks County and many public sites.
The Artmobile's upcoming exhibition theme is Marvelous Machines, which incorporates concepts of physics and
mechanical engineering with art.
In recent years, the themes for Artmobile have been based on
STEAM (science, technology, engineering, art, and mathematics).
"Art and science actually
have a lot of similarities. In
both you've got the artist or scientist having a lot of
intellectual curiosity, and being willing to take risks without being afraid of failing because when you fail, you actually learn from that experience," said Fran Orlando director of exhibitions and the Artmobile.
Artmobile tries to explain
science in terms of art, and
vice versa.
Orlando added, "This exhibition focuses on kinetic sculpture, but it explores kinetic sculpture by first presenting the six simple machines and then looking at
kinetic sculpture in terms of which of the simple machines went into making them."
The exhibit includes 16 artworks by 14 professional a
rtists, six historical objects
from the Mercer Museum, and five videos of larger pieces that could not fit into the vehicle.
"Bucks County has a
fascinating world-class
collection of historical artifacts from the preindustrial age at the Mercer Museum, so they seemed like a logical partner
for this," said Orlando. Experienced and highly-trained educators travel with Artmobile. They are able to adapt their teaching techniques based on their audience.
Artmobile offers several hands-on activities for students.
"Students are able to
manipulate a display and, kind of, reinforce what the educator
is talking about," said Orlando.
The educators teach students about art by helping them
understand the aestheticism, emotional components, the artists' inspiration, and art as a means of communication. Students can also see how the artworks are not always serious and deep, and can actually be quite whimsical and even funny at times.
Fran Orlando has 33 years of experience with Artmobile, and spends an immense amount of time planning the shows.
"I begin thinking of what
the next show will be as soon
as this show hits the road.
That's 18 months before the show hits the road," said
Orlando. "We redo the inside
and begin the installation of the new show, which takes all summer."
Artmobile will be touring
Marvelous Machines from
October 2019 to June 2021.