Goodbye park, hello Wal Mart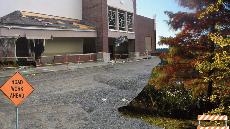 MATT FLOWERS
April 1, 2010
In an effort to stimulate the
economy and create new jobs,
Bucks County is planning on
demolishing Tyler State Park,
to build a Super Wal-Mart.
Tyler State Park, where students
go to hang out when
they are not studying, consists
of 1,711 acres in Bucks
County on Swamp Road.
There is original farmland and
woods surrounding the park,
that includes trails where people
can bike or fish.
The park is scheduled to be
torn down on July 4th, when people
can enjoy a special
fireworks show from the
wooded area, until they are
told to get the hell out.
One unemployed student
says he will be the first in line
to apply for the new Mega
Store. "They offer great
opportunities. I'm glad they
are doing it. The one thing this
country needs is another Wal-
Mart," says Eric Treehorn, 19,
a Retail Management major.
The retail complex will
include 1,200 acres for the
actual store, including food
and apparel, and 511 acres for
a parking lot where you can
be shuttled to one of the five
entrances.
According to the captain of
this operation, Mayor Dennis
O'Brien, this venture will create
more than 1 million jobs,
mostly workers for the store.
"I'd be a real idiot not to
build this thing. Don't you
just love those $5 DVD bins?"
says O'Brien.
Mayor O'Brien is also being
presented with a brand-new
Nintendo Wii, from the
founder of Wal-Mart stores,
Sam Walton. "I like Mario
Karts the best," O'Brien says.
For students who will worry
about not having a park or natural
surroundings with woods
to play in, Carrie Deload, new
manager of operations there,
shed some light on the situation.
"At the end of the parking
lot, we will leave a tree where
students can sit under and
hang out. We will also be giving
away free gift certificates
to the first 100 students who
show their Bucks County
Community College student
ID's," states Deload.
The new Mega Wal-Mart is
expected to be slashing
unemployment rates by
Thanksgiving weekend, 2010.