Professor profile: Stanley Timek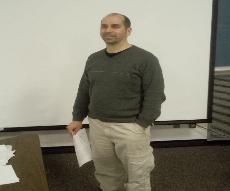 JESSE TROUT
April 26, 2010
A class full of students sits
eagerly on the edge of their
seats, in anticipation of the
professor's next action or
engaging question. Now, 20
minutes into Media and
Society, and immersed in an
entertaining yet educational
student-professor discussion,
you wonder in your head,
"could this class get any better?"
Almost as if Professor Stan
Timek could tell what you
were thinking. he quickly
reacts. At that very moment
Timek, dressed in a dark brown
V-neck sweater, tan creased
khakis, and dress shoes, hops
up onto a bench resting near
the massive chalkboard and
confidently projects out
towards his audience, much
like a seasoned Shakespearian
actor.
Question answered: Yes
this class could get better. It
just did.
"I'm passionate about teaching,"
Timek says, "as such I
draw from all of my life experiences
to make my classes
interesting and relevant."
His passion for teaching is
intriguing and sincere, and also
strikingly evident from the
minute a lecture or PowerPoint
of his begins, as his energetic
personality gets the entire class
excited to discuss the latest
media tactics and how we as a
society adapt.
Timek's ability to speak in
front of a lecture hall packed
with mostly 20-something college
students and keep them
focused on one main idea for
an entire hour and 15 minutes
is no small feat. He is able to
do so by speaking with conviction
and working the entire
classroom – pacing the room
left-to-right, right-to-left with
eyes focused intently on his
audience.
Many students are juggling
three or four other courses,
stressing about work, or are too
engrossed in their cell-phones
or I-Pod. However, gadgets
and wandering student minds
are no problem for this professor.
His swift hand movements
while he's speaking during his
PowerPoint presentations keep
the students hanging onto the
last word and will have the
effect of a classroom hibachi.
But instead of the entertainment
and food, you receive
entertainment and an education.
Professors also face a challenging
task depending on the
various opinions, personalities,
and views of their students.
But Timek does a tremendous
job getting every student
involved in class discussions,
and an even better job relating
the subject matter to a classroom
full of students with differing
viewpoints.
"I strive to make the learning
environment fun and engaging.
I want my students to understand
the subjects I teach and
how they can use the information/
knowledge in their lives,"
he says.
That seems to be the driving
force behind the growing
enthusiasm for this class.
Not all professors have this
degree of devotion to their students.
In some cases, they may
be teaching at the collegiate
level for the esteem, the 'professor'
title, or monetary reasons;
but these are not the reasons
why Timek became a professor
at Bucks.
Instead, Timek says he teaches
because he enjoys the overall
interaction with students
who are also interested in communication.
He wants his students
to become better media
producers or consumers, and
most importantly he enjoys
helping them become "the best
that they can be – whether it's a
writer, director, camera person,
or businessperson in the industry."
To understand his inspiration
for teaching communication
classes and the direction he
envisions his career taking,
you must first realize
what/who has gotten Timek to
be the person and professor
that he is today.
Timek grew up just outside
of Pittston, Pennsylvania and
graduated from King's College
in Wilkes Barre with a degree
in mass communication; he
went on to receive his Master's
Degree from Bloomsburg
University in Instructional
Technologies.
Throughout early childhood
and as his education continued,
he says, "always having good
teachers in high school and
beyond, and in general having
interesting life experiences,"
all contributed to making him
the person and professor he is
today.
"Being blessed with a good
family environment growing
up," Timek says was another
huge factor that he feels played
a pivotal role in his development.
That healthy family life has
continued into his adult life
with his family. Timek says he
enjoys basketball, hiking, various
other outdoor activities,
and playing games with his
family.
While currently teaching at a
part-time basis at Bucks,
Timek still has many goals as
he hopes to continually grow
in every aspect of his profession
and beyond.
"My aspirations are to continually
grow as an instructor, a
person, and as a businessman,"
he says.
With set goals, a positive
outlook, and a welcoming personality
such as Timek's.
personal and professional
growth is only a matter of
when, not if.