Deerhunter's experiment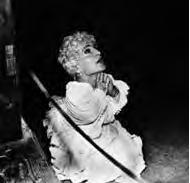 ANDRES FLORES
September 28, 2010
When talking about the state
of the Indie music industry,
one cannot say much without
mentioning Bradford Cox
(front man of Deerhunter and
solo project Atlas Sound.)
Whether it be a new LP or EP
from Deerhunter, or an album
from Atlas Sound, whatever
the case, Cox always seems to
be constantly creating something
new.
Two years removed from
Deerhunter's last LP, 2008's
Microcastle, the indie rock
band from Atlanta has come
back with a more spaced-out,
experimental album that
exceeds anything they've ever
done. This time around, the
band experiments with space,
background noise, and
Springsteen-inspired rock
tunes.
The album opens up with the
lo-fi, shoe gaze inspired,
"Earthquake." The guitar's
fuzz wraps around Cox's
voice, coaxing it in a vibrating
hum. The song's way of
unfolding, with the assistance
of a slow opening, helps the
song build up into a lo-fi introduction.
"Sailing," a song about loneliness
and wandering, is a lyrical
masterpiece. Only a guitar
and Cox's vocals can be heard,
with the occasional ocean
sounds in the background. The
listener is transported to a ship
alongside Bradford Cox. "Only
fear can make you feel alone,"
Cox croons repeatedly in the
song.
"Coronado," which reminds
me of a Springsteen song,
introduces the saxophone into
the mix, creating a sound
Deerhunter never attempted
before.
However, the song that
immediately steals the listener's
attention is the beautifully
constructed, "Helicopter."
Opening up with the twangs of
a guitar, a drum machine, and
Cox's best singing to date on
any record, the song immediately
envelops you, holds you
and lulls you to a comfortable
place. The mixture of a drum
machine and an actual drum
normally is a combination for
inconsistency, but here it
works to a tee.
"I pray for rest/ Could you
pray for us/ We know He loves
you the best," is the line that
stands out in the song. Cox
reaches new heights here with
his vocals, an instrument that
in the past he rarely took into
account.
The album closes with a tribute
to one of Cox's friends, and
garage punk legends, Jay
Reatard, who passed away this
January. "He Would Have
Laughed" is a beautiful tribute
to someone who Cox felt
deeply about. The song's
upbeat melody, twangy guitars,
and message tug at your
heartstrings.
Deerhunter continue to
amaze, and reach new boundaries.
This album solidifies
their place in the indie music
scene, and should make them a
centerpiece in it as well.