Clubs need members
Francesca Miller, Centurion Staff
October 27, 2011
Despite there being over 100 clubs at Bucks 70 of them are currently closed, desperately needing students members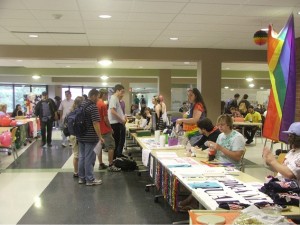 and advisors.
But, the numbers are a little misleading, Student Life Director Matt Cipriano said.
"All of the clubs listed are clubs that have been offered throughout the years here at Bucks. It's easier to keep the clubs opened rather than reopening them" he said.
Some of the clubs listed are names only, with no members or advisors. For example: Lacrosse. Students make the club and then never look back.
Although some clubs like Ski/Snowboarding, which had 50 students wanting to participate, are doing fairly well, many other clubs need student participation.
There are only about 500 members total in of all the clubs combined.
"That is not a lot for the size of the college. We know that students have other responsibilities outside of school such as family, work, and social lives" Cipriano said.
This shouldn't stop students from joining. Some clubs only meet once a month and can have sessions over Skype.
Cipriano suggested to "Carve out some time in the day for student groups. Whatever you can give that's what it's all about."
Facebook has helped a little. Every club has their own Facebook page, allowing more focus on the group; who they are and what they're about.
Clubs are open to all full and part-time Bucks students.
Students can join at any time.
"Usually by spring semester we see some stability with the groups, the new students feel comfortable and current students are more settled" Capriano said.
But students are more than welcome to join clubs at any time.
For a list of clubs and organizations at Bucks visit, http://www.bucks.edu/life/clubs/ or if you have an idea about a club that you would like to start or reopen, stop by the Student Life Room 112 in the Rollins Center or call (215) 968-8257.