ESPN Hosts Face Wrath of Network as Protests Drag On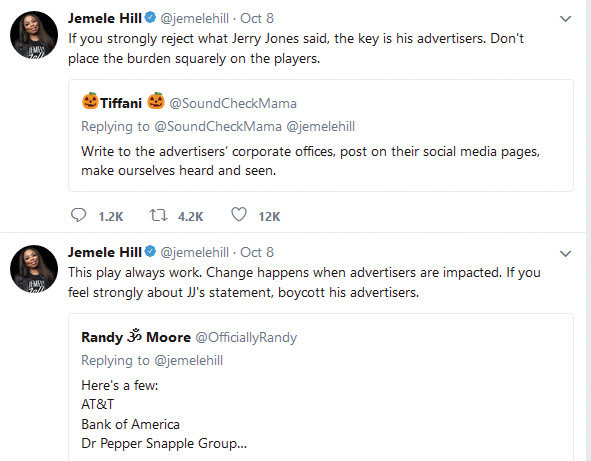 Hang on for a minute...we're trying to find some more stories you might like.
ESPN anchor Jemele Hill was suspended from the sports network after suggesting that NFL fans should boycott advertisers associated with the Dallas Cowboys, whose owner, Jerry Jones, has ordered his players to stand for the national anthem or face punishment.
Hill was suspended two weeks for what ESPN said was a second violation of the company's social media policy, within the past few weeks. The tweets were aimed at Dallas Cowboys owner Jerry Jones, after he told his players that they would stand during the national anthem, or else they would be benched or even fined. Hill responded to the owner's comments by taking to twitter, and proclaimed that fans should not patronize the Cowboys or its advertisers. "If you strongly reject what Jerry Jones said, the key is his advertisers … Don't place the burden squarely on the players."
As previously mentioned, this wasn't Hill's first run in with the twitter police.
She previously scuffled with the networks media execs and their policy back in September, when she tweeted that President Donald Trump was a "White supremacist." The White House press secretary Sarah Huckabee Sanders called Hill's remarks "a fireable offense". Trump himself, as he's been known to do, inserted himself into the twitters conversation with statements of his own. Trump tweeted "With Jemele Hill at the mike, it's no wonder ESPN rating have "tanked," in fact so badly it is the talk of the industry."
While ESPN declined to comment on Trump's tweets about the ratings "spike", the root cause of this suspension is money. Tweeting negatively about the richest team of the most lucrative league for the company, Hill proclaiming for fans to ditch the vendors and advertisers would surely affect the networks bottom line as a broadcast partner that pays to carry NFL games.
The initial statement put out by ESPN, in regards to her tweets about President Trump, called Hill's actions "impulsive" and reported that her subsequent apology spoke to the fact the she was "letting her colleagues and company down."
This time around, the message read far more sternly.
Jemele Hill has been suspended for two weeks for a second violation of our social media guidelines … In the aftermath, all employees were reminded of how individual tweets may reflect negatively on ESPN nd that such actions have consequences."
ESPN has a stern history of punishing its employees who step out from regulations and guidelines, and especially those who oppose the NFL. Stifling them of their free speech, and forcing them to 'toe the company line" when it comes to topics going on in the media, even issue that affect them directly.
Since her suspension, past and present members of the ESPN framework have come out in support of Hill. None more so than her close friend and co-anchor on ESPN's "The Six", Michael Smith, who protested the first day of Hill's suspension refusing to go on without his sidekick. Most of these members feeling unsettled by a fellow colleague being punished for simply speaking their mind.
Jemele Hill is courageous, standing up for what she believes in despite her employer and the media that covers it are so strongly against her actions. Putting her livelihood on the line to speak up about something that matters. Topics that most people with her platform, remain silent about.
In the world we live in today, free speech has been at the forefront of most media outlets. And it's a terrifying thought of what kind of slippery slope that will only escalate if big corporations like ESPN start a trend. The trend of stifling the thoughts, and beliefs of their employees, conforming to walk talk and think through the company's defined lens.
We can only hope that people like Hill continue to stand-up up and buck the system when they see injustice taking place. And perhaps, more importantly, that the people around them stand up and have their back.