Three Cooks, 70 Reserved Tables, 100 Degree Kitchens: How Angela Shellenberger Takes the Heat, Every Day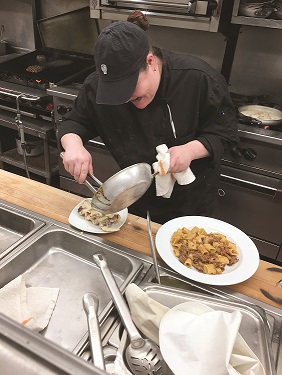 Joe Roatche, Centurion Staff
April 12, 2018
"Ordering! A veal Parmesan, filet medium, and a cup of snapper soup," Angela Shellenberger, of Indian Valley Country Club barks out her first order of the night.
Working as a sauté chef, Shellenberger is strapped with a white button-down chef coat with her name sewn on, accompanied by black crocs, a digital thermometer, and a BIC pen, all in preparation for another night of dinner service.
In a 100 degree kitchen, with meat steamers and a three-stage dishwasher pumping at full tilt, sweat trickles down the rosy red cheek of Shellenberger as she dances through the food line, talking to her filets, "Are you done yet?" Shellenberger asks the meat.
"I found my passion to be a chef early in high school." Shellenberger says. "When you start out, usually you don't see the art form behind the food that you're making." She added, "That's what drew me in, making sure every dish I make looks, and most importantly tastes delicious."
Over 70 club members have reserved tables to eat at Indian Valley on a Friday night, where a live band is performing "Open Arms" by Journey. With a staff of only three dinner cooks, Shellenberger is in command in the middle of the cooking line, dishing out tickets for the other chefs to prepare and send out to the waitresses.
As the yellow and pink tickets stumble out of the machine, the lines pace increases, as well as the level of stress amongst the kitchen. "When 20 people come in at once, it definitely can get a little stressful." Shellenberger said. She added, "But it's also important that just because I am moving faster, that I don't neglect any plates."
Being a sauté chef is not just about making mouth-watering dishes, but also includes hours of prep work. This of course, helps maintain what needs to be ready for the night as well as what needs to be ordered for the upcoming week.
"Prep is the easy part." Shellenberger said. Smiling, she added, "I just throw in an ear bud and go to work."
Shellenberger talked about prep being one of the most important aspects of her job performance. "If you don't have your food prepared, or the things you need, you throw yourself and all the other chefs off their game."
Shellenberger talked about the difficulties it takes to be a chef and what she would tell current students who wanted to work as a chef. "If you truly want to be a chef, then get any job in a kitchen. That's where it starts." Shellenberger said. "If you do that, and still want to be a chef, you may have found your calling."
In addition to being a sauté chef at Indian Valley, Shellenberger also works as a part-time employee at Wawa in Souderton, PA. Although juggling two jobs is strenuous, Shellenberger says her second job is mostly for her enjoyment as much as it is for the money.
When talking about her job at Wawa, Shellenberger said, "It's obviously not the same job that I have at the Country Club, but I'm still able to do things I love." Describing some of her duties Shellenberger said, "Just making smoothies, preparing sandwiches, and making sure everything is stocked up."
Between Indian Valley and Wawa, sleep is almost non-existent in Shellenberger's life, as she talked about sleeping an average of four to five hours per night. From working at Wawa until the time she wakes up, to eventually working as a line cook into late hours in the night. "Sleep is hard to come by but I wouldn't trade what I do for the world." Shellenberger said. Jokingly she says, "But we will see how long that lasts!"
Shellenberger talked about her choice of profession by saying, "You do what you have to do to get by." She added, "It sounds cliché but when you care about what you do, it makes going to work not feel like a job."