Queeney's View on Communications in the 21st Century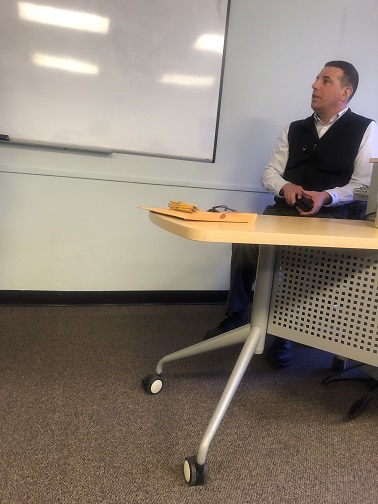 Joseph Sheridan, Centurion Staff
April 4, 2019
"So, what is the nature of reality?" Professor Shawn Queeney asks of his Communications class in the midst of a lively discussion about virtual reality.
The response is ripe with the opinions of young adults yet to eat lunch, eager to consume the fruits of wisdom.
Professor Queeney, all 6-foot-something of him, towers over his seemingly tiny desk as students share opinions and experiences related to the topic at hand. Unlike the atmosphere of many morning classes this one seems to be filled with a willingness, even an eagerness, to learn.
The only time Queeney interjects is to offer encouragement or direction to the conversations, standing calmly in his dapper beige sweater often saying nothing more than "that's interesting," "I never thought of that," or "you know, you're right."
"Professor Queeney is kind of hard to describe, man, he always seems, like, really calm. He's smart, he's a good teacher, and he always makes class entertaining. I'm pretty sure he's getting his PhD currently. He's really smart," said Chris Schumann, a Freshman Communications major and student of Queeney's said after class.
It doesn't take long to understand this sentiment after sitting in on one of the professor's classes. How is a man who's smart, entertaining, and seemingly well respected difficult to describe?
Simple, he's also incredibly humble.
His answers are often a bit lengthy, but he's usually well aware he has broken into a soliloquy and quickly apologizes.
He enjoys a class with engaged students who value doing the work, the type of individuals you can meet halfway, never wanting to impose his ideas too heavily upon impressionable minds.
In a world filled with an overload of infoarmation and opinions, not to mention more than enough platforms to share them on, Professor Queeney prefers listening.
With a bachelor's in Business Management from Wilkes University and a masters in Communications, Queeney is working on completing a three-year PhD program focused on conflict resolution.
A long-time interest for him, Queeney hopes people will eventually begin to think differently about how we handle conflict on both the micro and macro level. He believes humanity needs more foresight and better negotiation before getting into conflicts.
Before falling into the wormhole that is communications and its theories, Queeney had his sights set on owning his own business in marketing, and avoiding the gloominess of working in a corporate setting.
He quickly witnessed downside of such work after seeing one of his superiors take the fall for her team not receiving their paychecks, something she had no control over.
Realizing that owning a business would almost certainly mean having to let people down, Queeney reassessed and waded into communications.
It's a field that some critics claim is useless and a waste of money.
As a man who genuinely enjoys practicality and logic, and someone who marvels at human tendencies and humanity, Queeney found a field that harnessed all his creative talents, hard work, and enjoyment of reading, writing, talking, and learning.
The lack of number crunching was also enticing.
Years later, Queeney sits in his office answering questions between taking bites of his turkey sandwich while I cram barely legible notes into the 9.5" by 6" copybook I use for three different classes.
"Rodney Dangerfield, he might be before your time, has a line that makes me think of what it's like being in communications; I don't get no respect," Queeney says in his incessantly gentle tone.
Queeney is well aware of the negative connotation that surrounds the study of communications; he believes it may come from the the fact that the skills involved –talking, writing and sharing ideas – are things everyone does all the time.
He's enthralled by the idea of humanity talking and becoming closer, hopefully leading to fewer or more easily resolvable conflicts. Humans seem to be pushing limits, but we've yet to see whether or not it's for the best.
Even after he leaves class and turns the lights in his office out for the night, Queeney is still running on the energy of communications.
It comes to fruition when working alongside his pre-teen son, while losing an argument to his spouse, or when he's talking some smack amongst his bowling peers.
He claims that if there's one thing he's learned from his long run in communications, it's that he's actually pretty bad at it, as are most of us.