Lane Johnson and Mental Health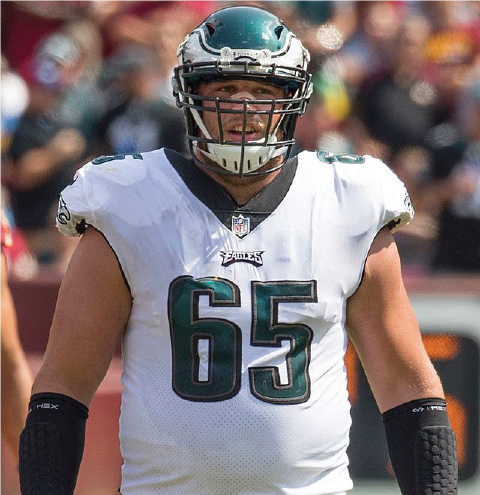 According to the National
Institute of Mental Health, one in
five adults in the United States is
living with mental illness. 42.5
million people reported struggling
with some form of an anxiety
disorder, ranking them among the
most common mental illnesses.
There is a widely perceived
stigma concerning mental health.
Many people view mental illness
as shameful or embarrassing to
their family, friends, society, or
even just to themselves.
A lack of education and awareness
weaken our chances, as a
society, to destigmatize mental
illness. For fear of being labelled
crazy or being subject to stereotypes,
many people go without
treatment and continue to struggle
every day.
According to the Mental Health
Foundation, 9 out of 10 people
with mental illness feel that the
stigma makes their struggle harder.
People often hide their battle
from those closest to them.
Sara Vankirk, 18-year-old
business major from Richboro,
has endured an ongoing fight with
anxiety for years. "On the surface,
it affects me how everybody
thinks it does – I worry too much
about things I can't control and
stress over irrelevant stuff."
"Some days are worse than
others, but what people don't realize
is that it consumes my life."
Vankirk continues, "Sometimes
I'll lose my appetite and skip
meals because of my anxiety. It's
not just a matter of overthinking
dumb stuff, it controls my every
thought and eats away at me.
I used to hate telling people
about my anxiety because it made
me feel crazy. I outgrew my fear
and started to open up more. In
doing so, I realized anxiety is very
common and I have close friends
that struggle too."
Most people struggling with
mental illness struggle alone and
to nobody else's knowledge. The
Philadelphia Eagles offensive
tackle, Lane Johnson, was diagnosed
with an anxiety disorder in
college, and recently shared his
battle with mental illness.
Johnson took a brief leave in
early October to address his anxiety
and depression. He was experiencing
symptoms of withdrawal
from an antidepressant medication
that he uses to treat his disorders.
He missed three games waiting
for the symptoms to subside.
Johnson shares his experiences
with Eagles right guard Brandon
Brooks, who has also missed
games due to anxiety and constantly
supported Johnson. He
urges people to not "bottle up"
their anxiety and get help so it
does not escalate.
19-year-old Cinema Video
Production major Nathaniel Clee
is optimistic following the revelation
of Lane Johnson's mental
illness. "I have a lot of respect for
Lane Johnson. Telling the whole
world about your mental illness
can't be an easy feat.
I hope this goes to show that
professional athletes and celebrities
are not invincible, they're
vulnerable to the same struggles
as the rest of us." Clee continues,
"Hopefully this can help get rid of
the negative connotation associated
with the word mental illness."
When mental health is left
untreated, it often escalates
and could lead to catastrophe.
18-year-old Sarah Cummins from
Southampton hopes mental health
can become destigmatized in the
near future.
"I actually lost a friend to
mental illness in 2019. It sounds
so cliché, but nobody would
have ever expected him to be
struggling with mental illness."
Cummins continues, "I really
hope stories like Lane Johnson's
can shine light on mental illness
and possibly save a life. Nobody
should have to fight alone."
The best ways to end the stigma
would be to educate yourself and
others. Talk openly about mental
health and seek treatment when
needed. It is normal to struggle,
everybody does. Reach out to a
friend, a counselor, or anybody
close to you. Somebody cares.