No Home For Hate Organization Comes to Bucks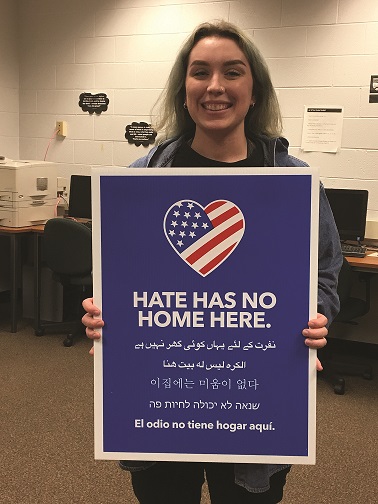 Hang on for a minute...we're trying to find some more stories you might like.
Hate Has No Home Here is a
non-partisan organization promoting
acceptance and safety among
marginalized groups in America.
The idea began with two elementary
school kids in Chicago
who wanted the spread the
message of safety and love with
anyone who feels unsafe, unwelcome,
or threatened because
of the current state the political
climate is in America.
It started in the midst of the
November election, when the
number of hate crimes happening
in America were dramatically
increasing.
The main focus that this
movement has is the removal of
hate speech and intolerance from
different communities, neighborhoods,
and businesses.
John H. Strauss, a Language
and Literature professor here at
Bucks, is very involved with this
campaign and wants to spread the
word about this movement.
"Over the last year or so, resentment,
anger, and hate, have really
accelerated", Strauss explained.
"With the incidents of the destruction
of the Jewish cemeteries
and racist and anti-semitic graffiti
that has been popping up around
the area, we felt it was time to do
something."
"We are trying to make a statement
here, that hate is not going
to be tolerated."
"Through the local American
Federation of Teachers, our faculty
agreed to put these signs out
there and begin this campaign on
campus."
Being that this movement is
nation-wide, the faculty at Bucks
thought it was important to bring
this campaign to the Bucks campus,
so everyone can feel included
and safe.
"It's to make a statement that
the kind of hate, whether it be
racial/gender/religious based, is
not what we're about", he said.
"The signs for this campaign
are both blue and red which
means it's non partisan and that's
important. It's not a matter of being
either democrat or republican,
it's about not tolerating hate."
"We are planning to do more
things in the fall semester, like
informationals, discussion groups,
or presentations, but right now we
are focused on getting the word
out."
"Knowledge is the first step; understanding
leads to progress and
things can change when people
understand."
"The biggest thing we want our
students to know is that you have
support and protection here. There
is always someone to talk to or
get help if your are in an uncomfortable
situation."
"When you see the kind of
threatening language that's happening
out there and you see people
being attacked for their race or
ethnicity, we feel the need to get
some stuff going", Strauss says.
"Humanity and acceptance is
what I thought this country is all
about."
"We will stand up for you. You
have protection from hate here,
it's about physical and emotional
safety", Strauss said in regards to
the faculty at Bucks.
There are many ways to contribute
to this movement. There
are signs and magnets available
to spread the word about the campaign
which are available locally.
The website www.hatehasnohomehere.
org can show where the
closest sign distributor is located.