Looking Through the Eyes of Freshmen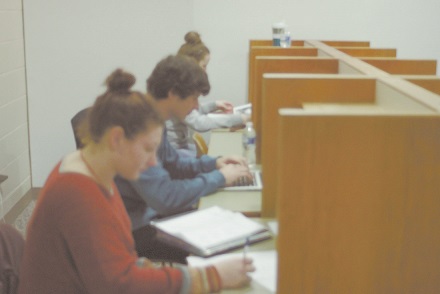 Macy Moors
October 5, 2017
Hang on for a minute...we're trying to find some more stories you might like.
I remember dating back to my first day as a freshman at Bucks; excited but anxious for what this new start may bring. Will the school work be harder? What will my professors be like? These are a few of the many questions that continually raced through my mind.
After interviewing some fresh faces on campus, I got to learn more about their experience as a new student here at Bucks.
"So what made you decide to enroll at Bucks?" was the first of many questions I asked in which many of the students shared similar answers.
Kailie Mitchell, 18, criminal justice major, shared that saving money was the main determining factor. "I chose Bucks simply for the fact of saving money. My major is criminal justice and my career is homicide detective which requires a lot of schooling."
Tristan Jerome Brown, 19, criminal justice major, stated, "I thought it would be good place for me to start. I did not really know want I wanted to be and Bucks was a place that could help me find it for a good price."
It was found that in all of the interviews conducted, saving money was the main factor for students choosing Bucks.
"What are your favorite attributes of the school so far?"
Teresa Yeager, 19, criminal justice major, said her favorite attribute of the college is how welcoming everyone was when she first started. "Faculty members and freshmen who attended the freshmen orientation were all friendly and open to getting to know each other. Also, just the experience I have being on the women's soccer team has made me feel comfortable and welcomed here at Bucks."
Haleigh Kaufmann, 18, pre-allied health major, said her most-noted attribute of the college is how driven it is to motivate its students. "There are so many helpful and free resources for those who may need it and I think that's a great thing to offer."
Mitchell agreed and had some more positive contributions to add as well. "The food, being way better than high school lunches. The vibe, you just get along with everyone and everyone has a 'place.' Every staff member at Bucks just wants to see you succeed."
"Would you recommend Bucks to a friend?"
"Yes. Good atmosphere, good athletics program, good friendships I have built so far and even the food is great. I had a bomb chicken cheesesteak the other day thanks to our chefs," Mitchell shared.
"What advice would you give to upcoming freshmen in the future?"
"I would recommend for them to come to Bucks. It is a good idea if you are undecided. It will save you money and you can get a head start without waiting and having to relearn something you forgot," said Brown.
"My advice would be to get involved with the school. Don't be ashamed of going to a community college and have fun while you're here but also study hard because this is when it counts!" advised Kaufmann.
She proceeded to inform incoming students who may be interested in Bucks. "I really dislike the judgement people give towards the school. The classes are just as good as those offered at four year schools."
"At first, I was insecure about telling people I was attending Bucks just because everyone at my school was going to a big school like Penn State or Kutztown but now I know I made the right decision because I've talked to my friends that are away at college and they're stressed about paying for college, books and everything else." Kaufmann concluded.