Faith Not Just for a Season: An Exclusive Interview With Eagles Wide Receiver Marcus Johnson
Julia Pacifico
March 29, 2018
Hang on for a minute...we're trying to find some more stories you might like.
As Super Bowl LII approached, the city of Philadelphia buzzed with anticipation. This was the game that had been the ambition of the entire season, holding the chance to bring home the Vince Lombardi trophy for the first time in Philadelphia Eagle history. And for 23 year-old Philadelphia Eagles wide receiver Marcus Johnson, there was only one way to describe the success – "a blessing."
If you're not careful, the opportunities Marcus has received throughout his life can easily appear as mere coincidences, or even good luck, but Marcus counts all of the opportunities he has been given as doors opened only by God.
"It's hard to put into words. It feels so surreal, because my whole life, my family would have a big Super Bowl party, everybody got together to watch the game, and now my team is playing in it," he marveled.
The Philadelphia Eagles finished the regular season with a 13-3 record. Later the team secured playoff wins against the Atlanta Falcons and Minnesota Vikings – sending them straight to the Super Bowl to face the Patriots.
Born and raised in Texas, football runs in Marcus's blood. His passion for the game started at the ripe age of six, continuing all the way through high school and college, to his dream of playing in the NFL.
He was a part of the very first varsity football team at Clear Springs High School, in his hometown of League City, Texas, and then went on to play as a Longhorn at the University of Texas.
Growing up in the late 90's, spending the days adventuring around the neighborhood on his bike together with his friends, Marcus knew he was destined to be a Texas Longhorn.
"Crazy story – It was the year that Texas played USC in one of the greatest national championships ever played," he remembered. "Me and my mom happened to be cleaning my room. In the middle of cleaning, the game was on and we just stopped everything, sat down and watched the entire game. And I remember I told my mom, 'that's where I want to go.' "
Marcus's childhood dream came to fruition, though the road was not smooth sailing.
He faced many challenges with injuries and stats in his junior and senior year at the University of Texas, that caused him to doubt his future as an NFL prospect.
Nevertheless, in spite of all the challenges in his college career, Marcus got the opportunity to try out for the Philadelphia Eagles in 2016. But unfortunately, after making the practice team, he got hurt during training camp of his rookie year, resulting in him being cut from the Eagles.
When Marcus got cut, he traveled from city to city practicing with different teams, until finally after 2 months – he was offered a spot on an NFL team.
However, as soon as the Eagles got word that Marcus was offered a position on another team, they instantly wanted him back.
Marcus went from having no home in the NFL to two teams that desperately wanted him.
Without hesitation, Marcus accepted the offer from the Eagles.
And went on to contribute 5 pass receptions, for 45 yards in the 2017 season.
"It's amazing how God works and the doors he opens for you," he said looking back, "From the day that I signed that contract – my commitment and intentionality with God and football, along with the good group of teammates in my corner, all have worked together to strengthen my faith."
Although he grew up in a Christian family, Marcus didn't have a personal faith of his own until he was signed to the Eagles in 2016.
Jordan Matthews, a former Philadelphia Eagle, now a Buffalo Bill, shared a quote with Marcus when he first got signed to the Eagles that was influential in stirring Marcus's faith in Jesus.
The quote reads "maybe our journey isn't so much about becoming anything, maybe it is about unbecoming everything that isn't you, so that you can be who you were meant to be in the first place."
With Matthews also being a receiver, he was one of the guys that Marcus spent time with the most outside of football.
"He was a really genuine person, he wasn't one of those guys who acted like he was too busy to ever talk to you, he was always there. And that quote that he told me was really something that changed my life," he said in admiration.
It took Matthews and his quote for Marcus to start being more conscious of his words, actions, and way of life.
"This is something I have caught myself doing as I've grown in my faith," he explained, "checking myself and making little changes on a consistent basis."
Watching how other players like Trey Burton, Carson Wentz, and Zach Ertz were living their life, had a lasting effect on him.
Marcus was baptized in October of 2017, in a hotel pool in Charlotte, North Carolina, surrounded by teammates and coaches. It was then that he made the decision to commit everything he had in himself to the Christian faith.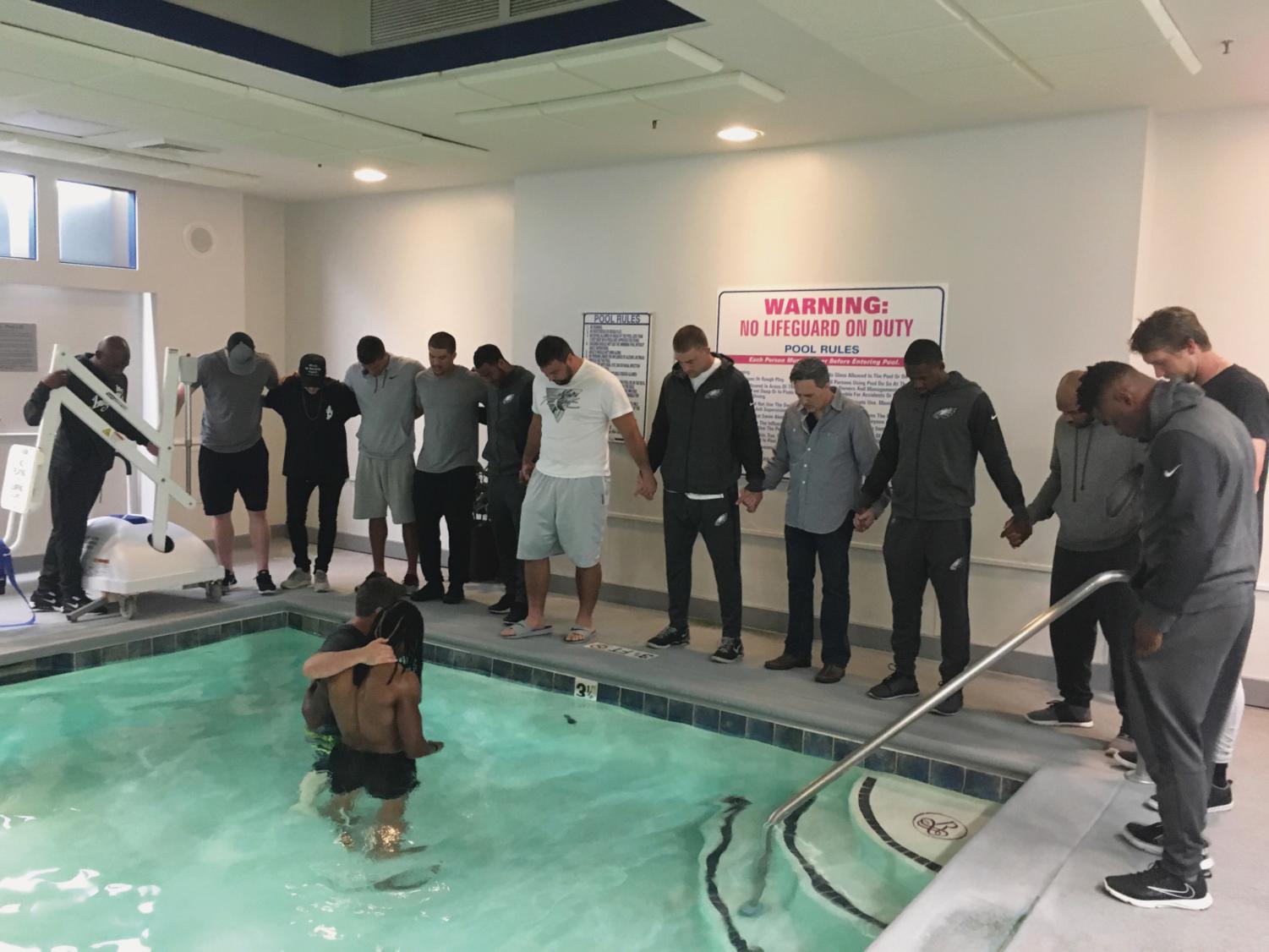 "To be honest I wanted to get baptized for a long time," he acknowledged. "I just think that getting baptized is declaring 'Lord I'm committed to you, and not only am I committed, but I'm going to be detailed in my life so that any ignorance I may have is gone and so that I can live a life that will please you.'"
There is a core group of guys in the Eagles locker room who are strong in their faith.
These players are some of the most talented athletes in the world, and rather than being consumed by an ego or isolated in the presence of rookies and other new teammates, they welcome everyone with open arms.
They are genuinely humble and dedicated to holding themselves accountable to everything they say and do.
And Marcus added, "Not only do they hold themselves accountable but they hold you accountable, like 'Hey man, we had bible study and you weren't there,' or 'Hey, we had church on Sunday and we didn't see you.' It's just little things like that which keep you on the right path."
Although many consider the NFL a glamorous and enticing way of life, which it definitely can be, it also comes with its fair share of uncertainty.
Injury, opportunity, and recognition are factors that can be a heavy burden to bear.
Marcus added, "I constantly remind myself 'God has something no man can take, he strengthens me and brings me peace'."
This only being Marcus's second year in the NFL, and first year on the NFL roster, he gives the credit for his amazing opportunities to no one other than God.
On March 7, 2018, he was traded to the Seattle Seahawks, along with a 5th round draft pick, in exchange for defensive end Michael Bennett, as well as a 7th round draft pick.
And with absolute confidence Marcus said, "It's God's plan. And I'm so comfortable with what he has for me. Because of him all is possible and that's a beautiful thing."