Newtown Campus Bipartisan Event Highlights Importance of Student Political Involvement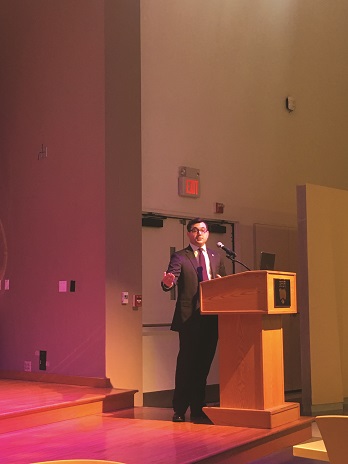 Dave Kuebler and Ella Garratt
April 12, 2018
Bucks's Democratic and Republican clubs came together on Thursday afternoon for a bipartisan workshop to discuss the importance of youth participation in politics and opportunities for students in the campaign world.
What was supposed to be a Democratic club rally quickly turned into a political potluck, when the 19-year-old vice president of the college's Democratic club, Alexa Lipkin, a political science major from Fairless Hills, spoke with her close friend and Republican club president, Zachary Shoester, and encouraged him to join the event, birthing this bipartisan workshop.
"I work very closely with both parties, so I thought you know what, why not engage everyone?" Lipkin said. "Because when you only do one party, you're only going to get one side of the people, and we want to show the students at Bucks how they can do more, regardless of political standing, regardless of beliefs."
Lipkin also occupies the position of Political Affairs Director for the Republican club as well. Her passion for both political stripes is what brought both sides together for this important dialogue.
Shoester and Democratic club president Shanzeh Kahn brought their cabinets with them, as well as a guest speaker from each party to share their stories and give some advice to the young men and women in the crowd on how and why they should become more involved in the world of politics.
The first to speak was Republican David Gibbon, the campaign manager for Brian Fitzpatrick, the U.S. Representative for Pennsylvania's 8th congressional district, who's currently running for Congress.
Gibbon, a Bucks alumni, accepted the request to speak at this event because he feels very strongly that young people, regardless of their beliefs or respective party, can make a huge difference in political landscape. Preaching the fact that extensive experience, nor a fancy degree are a necessity.
"So much of this, can only be learned by being involved in it. The books are great, and I advise you to keep reading them, but I also highly advise you to volunteer, intern, apply for jobs, because what's really cool about politics is, there's no real requirements." He reiterated, "a lot of times, the innovation that's happening on campaigns, in government organizations, is now coming from the bottom. From the people newest to the organizations."
One of the biggest obstacles for the youth of today, is the fear of the unknown when it comes to politics. Being unsure as to how they can get more involved, how they can become more knowledgeable, and really, how they themselves can actually make a difference.
Gibbon responded to a question from the audience on that very topic.
"The first thing is to show up. People will take your help, even if you don't think you have a lot to offer. I promise you there are some envelopes that need addressing, there's some phones to be answered. And after that they will ask you to make phone calls, and after that you'll be writing script for those phone calls, and after that you'll be writing policy. It happens very quickly, guys, and I really don't believe there's another field quite like this. That has as much opportunity at the entry level."
And for those who are still unsure if they are cut out for the world of politics, they don't have to have it all figured out right away.
"To those students who aren't sure exactly what part of public service they'd like to enter, I tell them to find out why they're interested – find out what matters to you and get involved at the ground level. It may seem tedious at first, but that is the best way," said Gimmon.
"At the end of the day, find a way to put yourself at their doorstep, and if you knock they will open it, I promise you."
Although the two speakers represent opposing parties, they agreed on all fronts about how young people, particularly students, can become involved politically in their communities and in publics service.
Vice chair for the Young Democrats of Bucks County (not to be confused with the Bucks Democratic club), Steve Warhola, spoke to the potential tedious jobs that young and eager politicians may have;
"There are always envelopes to stamp, folders to file, and phone calls to be made. These may not be the exciting jobs or the jobs that seem like they have an impact, but over time, they do. These are the daily operations that keep the community and the politicians connected. If you have to start doing to simple tasks, you will rise up."
Warhola, very much like the young people he was addressing, was just an average high school student, two-sport athlete, and had little to no insight into the political climate.
He found himself at Neumann University, prepared to continue his athletic career at the collegian level, when he suffered an injury that had him laid up for several months. It was during that time he discovered politics, and soon thereafter, became enthralled by them.
"I started paying attention in my political science classes, and I realized that, I'm into sports and I'm competitive, and this politics game is another competition. But the reward for winning this game, is that you actually get to help people, and improve their lives in the future."
A key point Warhola hit on was the complacency of today's youth, in the realm of politics, because of their belief in its minimal effect on their everyday lives.
"You're saying that politics hasn't really effected your life. But what about your family? What about your friends? People that you know from different communities, that haven't necessarily had your same life experiences and the benefits that came from them. Politics affects them."
Warhola also noted the incredible difference being made by the young students of Stoneman Douglas High School in Parkland, FL. "Students, high school kids, have changed the national conversation. So, for those people who say, getting involve doesn't matter, my vote doesn't count, tell that to those kids."
He also proclaims, however, is that not every single person, or their actions, are going to result in the instant gratification of change. "Unfortunately, politics really is a long game. But the phone calls, knocking on doors, stuffing envelopes, those are the things that are important for today. Even if they aren't the most self-gratifying. It might not be the most appealing, but it is the most effective."
Although they reside within parties on opposite sides of the country's political foundation, Warhola and Gibbon's thoughts echoed one another on the younger generations necessary involvement in politics going forward.
It isn't glamourous, it will not garner news coverage, it very sincerely may go unnoticed in the moment. But collectively, all those little things invoke change. And the young people responsible for them are making a difference.