Wordsmiths Event Presents Radical Poets Brenda Hillman & Elizabeth Austin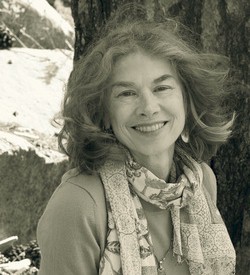 Tyler Creighton
April 26, 2018
As about the 70 or so individuals attending Buck's Wordsmith Reading Series in the Zlock Performing Arts Center shifted in their seats to get a better look, Brenda Hillman walked down the stairs at stage left to hand off her microphone to her 93-year-old "mama" sitting in the front row.
Reading three of the original lines to a poem which was written in Portuguese, and translated to English for the first time by the mother-daughter duo, it was hard not to find it endearing.
"It was her first reading, there's a first time for everything," says Hillman, the author of nine poetry collections, winner of the LA Times Book Award for Poetry, the 2014 Griffin Poetry Prize, The Northern California Book Award for Poetry, the 2012 Academy of American Poets Fellowship, the 2005 William Carlos Williams Prize for poetry, and Fellowships from the National Endowment for the Arts and Guggenheim Foundation.
When Hillman's not winning awards, she's a professor of Creative Writing, holding the Olivia Filippi Chair in Poetry at Saint Mary's College of California, getting involved in non-violent activism against fracking and war in the San Francisco Bay and DC Area, and of course translating Portuguese poems into English with her mother.
Reading before Hillman was a gifted local poet Elizabeth Austin, a Bucks alum.
Austin's poems had elements of the banal, or the mundanities of suburbia, as well as some more prickly issues facing our culture, with themes involving motherhood, teenage bullies, smoking pot, drinking wine, and having interracial children.
She's been published in the Schuylkill Valley Journal, See Spot Run, Foliate Oak, and Driftwood Press. After having read several poems, Austin handed the podium over to Brenda Hillman.
Hillman was introduced by Bucks' very own Professor Ethel Rackin, a poet herself who has two books published: The Forever Notes, and Go On.
Throughout her readings, it became clear that Hillman's poetry weaves in and out of microcosms and macrocosms, as she makes grand allusions to mythology, space-time, meta-physics, and then small microscopic organisms called extremophiles, which derive their name from living in some of the harshest conditions in the universe (see Tardigrades).
While it was evident that Hillman had been getting over some recent bout with a head cold, her voice was still gentle and easy flowing, careful to give the appropriate tone to each of her words.
One word that Hillman mentions that has been difficult to translate from Portuguese is the word "saudades", which she describes as similar to "longing" or "homesickness", but not exactly. She says that "Proust, of course, knew saudades", so saudades must be like a remembrance of things past, a sort of sad nostalgia.
It may be a stretch, but maybe the title of her newest book, Extra Hidden Life, among the Days is referring to the joy which can be found in associating words with feelings, and discovering words with somewhat hidden meanings like "saudades", being able to associate those meanings with feelings, and perhaps that's the hidden life, perhaps not. After all, that's what poetry is all about.