Bucks Presents the Vagina Monologues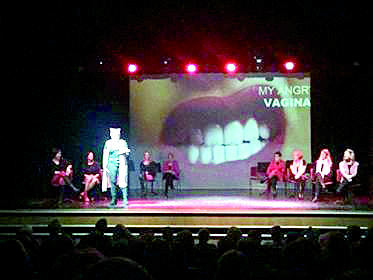 Brendon Lauff, Centurion Staff
March 14, 2019
The Vagina Monologues, written by Eve Ensler, is a play that explores sexual experiences at its best and its worst covering issues like body image, genital mutilation, sexual identity, and sexual violence.
This play has balanced empowerment with raising awareness. Comedy is the best icebreaker in any situation that covers awkward conversations and this play is able to find the best use of comedy when talking about vaginas.
While waiting for the play to begin the only images on the stage were various symbolic images of the forbidden topic of the female genitalia. The play at no point crosses any lines in explicit material but makes several innuendos.
The "eye of the tiger" and the horror score from Hitchcock's "Psycho" play as various images flash across the screen, including iconic figures and historical images like Wonder Woman, Ruth Bader Ginsburg, and scenes from women's marches in Washington.
The production here at Buck's Newtown Campus on Feb. 22 was directed by Margo O' Moore who has directed other productions such as "Proof" and "An Ideal Husband."
When interviewed the director said "This is a special piece and history-wise it has evolved over 20 years and is always being updated… This production brings different challenges and issues that are relevant to today's world."
O' Moore also stated "It allows women in politics or prominence to look about the struggles of body image… and the issues and attitudes of the world."
When asked if she added any personal touches to this specific production O' Moore said "The script itself gets updated each year and that Ensler, the original creator, gives instructions to the directors of how she wants it to be performed."
O'Moore also said, "Ensler wants it to be inclusive and spontaneous… I wanted the actresses to have the feeling of release in discussing and performing with these topics and even better understand the individual monologues."
Bucks student Cherry Kirumbi, 22, a communications major from Fairless Hills, was interviewed before and after the play. Kirumbi said "I decided to come to this play because my 'Intro to Acting' professor said this would be a good play for one of their assignments."
Kirumbi also said, "I know very little about this play and heard it had something to do with female empowerment."
The play starred a variety of amazing actresses with unique skill sets that came to life in this production in a multitude ways.
The play included Shelli Pentimal Bookler, a local actress, director, choreographer, and professor here at Bucks as well as Carley Crowley, known for work with productions such as "Proof" and "The Miracle Worker."
The production also includes Becca Finkenaur, Marianne Green, Nina Harper, Diana Irvine, Maria Jarrell, Lauren Kerstetter, Sandra Lawler, and Carlene Lawson. All of which have had extensive careers in theatre/film industry with a couple having experience in voice over work.
After the inspiring play that included various scenes like the flood, vagina happy/sad facts, they beat the girl out of my boy, the little coochie snorcher that could, and I was in the room, a thunderous applause filled the 350 seat auditorium.
After it was over Cherry Kirumbi said "I loved it, it was great, I loved the concept," and "I was originally nervous going into this because I didn't know what to expect, but after seeing this, wow amazing."