Construction Causes Confusion on Campus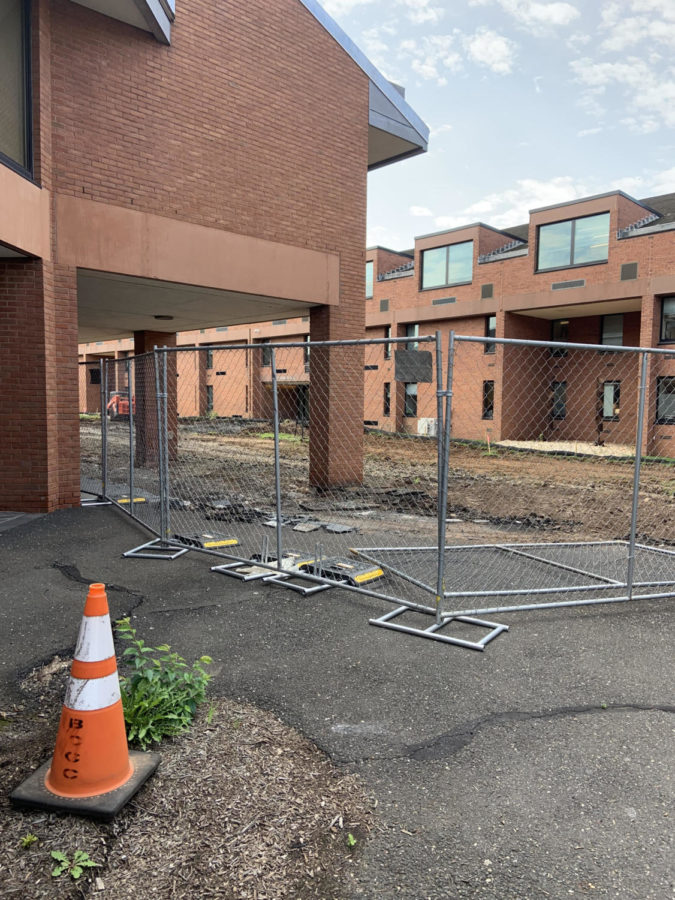 Bucks' Newtown campus construction has disrupted students' schedules and classes, and it won't be stopping anytime soon.
New cosmetic designs for campus are being implemented resulting in construction throughout the grounds. For now, these areas are fenced off for construction access only. The plan involves adding more greenery and modernizing the area.
The construction began at beginning of the fall semester, and Martin Snyder, director of the physical plant at Bucks, said this is only phase one.
Rhiley Yurro, 19-year-old speech pathology major, said that this is her first semester at Bucks' Newtown campus and the fencing makes it hard to find her way around campus.
"I hate it. I wish it would have been done over the summer, but it is happening during the busiest time of the year," Yurro said. "It is inconvenient, you have to go around the entire school just to get to Linksz."
Students will continue to see blocked off portions of campus into the spring semester.
"Phase two, which includes the area from the Faculty Center through to the Orangery will begin in March- approximately, depending on the winter weather and will be completed by the end of the spring semester" Synder said.
Leonard Gopshtein, 19, business major, said that the fencing added a good amount of time getting from class to class.
Gopshtein explained, "I have to try to come earlier to campus to weave around the fences and go through different buildings. The fencing adds about five minutes to my walk to class sometimes. The first week of school I was late to a few classes because of it. I found how to maneuver around it now but it is definitely in the way."
He added he had to carve out more time in advance to make sure he makes it to his classes in a timely manner, as the fencing makes for some obstruction of his usual path.
"It is a major inconvenience," said 19-year-old biomedical science major, Jocelyn Perchik. "The first day of classes, it really threw me off because I was already trying to find where I was going, and then the fence added to the stress of it," she said.
Perchik continued, "All of my classes are in the science building, so I have to find a way around and use another entryway every single day now."
Some students have been able to avoid the construction.
Dylan Khaytin, 18, business major on his first semester at Bucks, said it has not really affected him personally.
"All my classes are mainly in Grupp and Founders Halls, so I haven't really had any issues with the fence since I have been here. I barely even noticed it was there honestly. I have heard some of my friends say they had issues with finding their classes with it being there, but luckily my classes are all in one area where there is no fencing right now," Khaytin said.
Other students are not as fortunate. Several exits around campus are blocked and students are forced to find alternative routes to class for the time being.