Perkasie Campus Continues 20-Year Celebration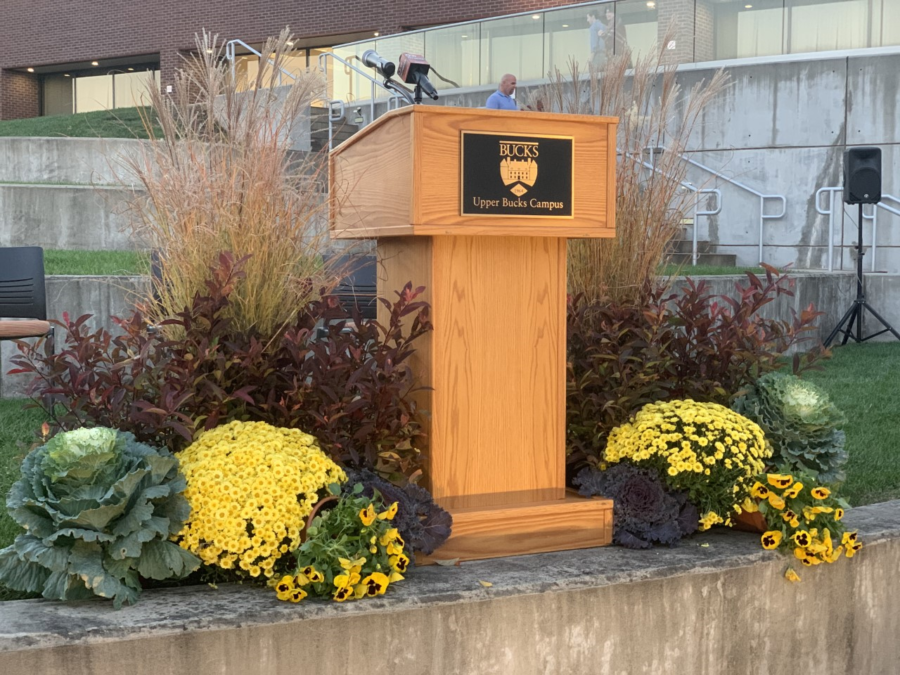 The Upper Bucks Campus located in Perkasie continued the celebration of their 20-year anniversary with a sculpture unveiling last Thursday.
Past and current faculty, staff, and students came together to view the new sculpture created by Milan J. Kralik Jr. The sculpture, named the Solar Column, was created out of stainless steel.
Kralik has been a sculptor for 40 years and has collaborated with the Bucks County community in the past. He describes his process as "problem solving for pleasure."
Kralik previously completed a sculpture for the Upper Bucks campus that displays kinetic elements. On windier days, there is a "chain" on the sculpture that will sway.
The Upper Bucks campus displays his works in the gardens to encourage artistic transformation of the college and to enhance the campus experience for the students.
Guests were greeted at the front of the campus with refreshments and were seated with small bowls of candy corn before the unveiling. Bucks faculty members shared stores of the Upper Bucks Campus.
"I found out that we were doing a campus in the lower part of the county, and we had Newtown already, so the central part of the county was covered. As I was making the drives down there, I realized the roads our students would have to travel, and I thought, we need to change this," said Bett Graver executive director of the Pennridge Chamber of Commerce, Betty Graver, "As we were doing renovations for the Lower Bucks campus at the old Delhaas High School, I thought we could really use something like this in Upper Bucks."
The campus serves as a great commuter satellite campus to students living in Upper Bucks as most students who take classes at the campus are coming from Pennridge, Quakertown, Palisades, and parts of Central Bucks.
In 2004, Bucks County Community college was recognized by the magazine Community College Weekly as "the fastest growing campus in the country" after adding the Upper Bucks campus.
Executive Director of the Perkasie campus, Rodney Altemose, shared some fun facts regarding the fairly new construction that added the North Building on campus.
"There are enough wires in the North building that will take us from Bucks County to Hershey. There are about 9,000 bricks in that building. 2,617 ceiling tiles, 4,026 square feet of slate tile, 1,405 carpet tiles, 370 light fixtures, and 950 gallons of paint," said Altemose.
The North building is a certified "green" building as the materials it was built out of were recycled.
The President of the Student Government Association (SGA), Evan Brooks, also gave his praise about the Upper Bucks Campus.
"I'm really proud that when I first started college, the very first one I went to is Bucks. Out of all the campuses I went to, the very first campus was Upper Bucks. It is the place where I learned and met so many of my closest friends, and extraordinary professors and faculty that have made me who I am today," Brooks said, "There's never a dull moment on the Upper Bucks campus."