Sean Kratz is Sentenced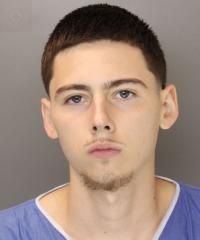 After 18 hours of deliberation, the jury found Sean Kratz guilty of first-degree and second-degree murder for the death of Dean Finocchiaro and voluntary manslaughter for the deaths of Tom Meo and Mark Sturgis. Kratz was sentenced to life in prison for his role in these 2017 slayings that took place on a farm in Solebury Township.
Kratz sentence announcement came shortly after the Bucks County District Attorney's office released a statement that the death penalty would not be pursued if he was found guilty.
District Attorney Matthew Weintraub thanked the family of Finocchiaro for their help in deciding Kratz's punishment.
Weintraub said in a statement, "I am awed by the grace demonstrated by the Finocchiaro family in helping me to make this difficult decision to not pursue the death penalty against the defendant. I hope that the families of Jimi Patrick, Dean Finocchiaro, Tom Meo, and Mark Sturgis can take solace that both DiNardo and Kratz will die in prison for what they did to their boys."
The jury listened to Kratz's taped confession during the trial. In the recording, Kratz told officers that he shot Finocchiaro in the back of the head. He explained that DiNardo killed Meo and Sturgis moments earlier. The coroner's testimony on the death of Finocchiaro matched Kratz's description of the murders.
Kratz was not connected to Patrick's death because DiNardo had murdered him days earlier.
The jury believed that Kratz and his cousin Cosmo DiNardo had worked together to devise a plan to rob Finacchiaro of a large sum of cash. License plate readers from police vehicles, had showed DiNardo and Kratz traveling together to meet the men and bring them to DiNardo's farm just outside of Peddlers Village in Lahaska.
In his confession Kratz said DiNardo yelled obscenities at him for not helping move the bodies. The defense team agrued that Kratz was fearful of his own life and feared what DiNardo would do to him if he was not compliant.
However, Kratz was left alone on the DiNardo property while his cousin went to pick up Sturgis and Meo to continue their crimes. The prosecution argued Kratz could have prevented the subsequent murders during this period of time he was alone
Kratz was found not only guilty of murder but a slew of other charges including armed robbery and three counts of misuse of a corpse.
The deaths of these men shocked the county. With this story coming to an end, hopefully the families effected can feel that some sort of justice was served.