Women's soccer season looks strikingly strong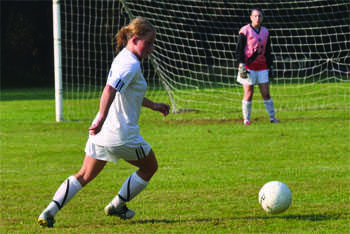 With the start of every school year comes the start of a new sports season. Coming into his second season coaching women's soccer at Bucks, Coach Matt Giordano had a lot of good things to say about this year's team.
Women's soccer has an awesome grasp on goalkeeping this season thanks to freshman Holly Bowser, the best Division 3 goalkeeper in the region. Bowser graduated last year from Neshaminy High School. Brooklyn Smith, another Neshaminy graduate, is contributing an outstanding offense. Second year player Cassidy Rudd is, as Giordano says, "the key to anchoring defense." The team has seven returning players this season which means more experience and better leadership.
This year is going to be different than previous years for Bucks women's soccer. For the first time, there are finally enough teams in the region for there to be a female conference. Bucks, along with 11 other Division 3 schools such as Northampton, Middlesex, and Montgomery, can qualify to be in the Eastern PA Athletic Conference this year and compete for the top spot.
On September 20, the Centurions are facing their rivals, Montgomery County Community College, with home field advantage. Giordano used to coach men's soccer at Montgomery County and mentioned how close of a rival they are. It is expected to be a fair, and quite heated, game.
So far, women's soccer has played Morris and Mercer, both Division 1 schools. Although the Centurions lost both games, Giordano notes they played close and aggressive games with great offense, only letting Morris gain one goal. Compared to how the Centurions have played against them in the past, Bucks has improved leaps and bounds.
The ladies have practice six days a week, omitting Sundays and game days. The coach did mention team fitness and depth on the bench is leaving something to be desired. Given that these girls have school, practice, and work on their plates, it's tough to have a schedule that works for everyone. Being a Division 3 school, Bucks isn't able to give athletic scholarships, which makes it more difficult for the girls to devote their time to soccer, as much as they may want to.
On their 16 game schedule, women's soccer has games Tuesdays, Thursdays and/or Saturdays.