Women's Basketball Team Hopes for a Bright Season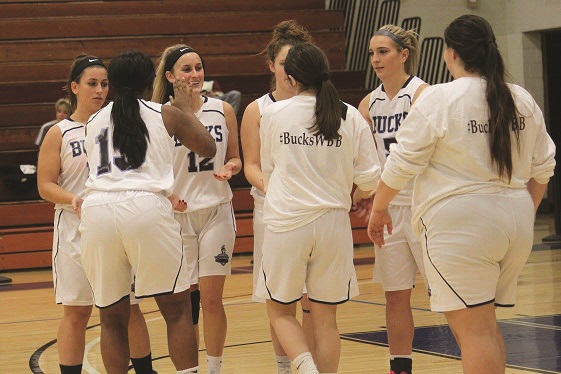 Hang on for a minute...we're trying to find some more stories you might like.
With the leaves changing colors, winds blowing harsh, and throats getting sore, this can only mean one thing; its basketball season. And much like the trees will soon sprout new leaves to replace old, our Bucks County Women's Basketball team will be featuring a new head coach to continue to represent the school in the best possible way.
Coach Andre Bright served as an assistant coach for the Lady Centurions Women's Basketball Team during the 2017-18 season. This will be his first time in a head coaching position, but with Coach Bright's resume and basketball acumen, you will surely be hearing his name for years to come. He fell in love with the game at ten years old with the arrival of Julius Erving, PhD. into the National Basketball League, that same year he received his first Spalding basketball as a gift, from that moment on basketball truly was life.
He played high school basketball at the Franklin Learning Center in the Philadelphia Public League, and continued his playing career at Paine College in Augusta, GA and at Lackawanna Junior College in Scranton, PA. Coach Bright attended skill camps in the Pocono Mountains area, where he first began to take notice of the women's game. Being exposed to women's basketball players such as the legendary Ann Donovan was eye opening for a young Andre Bright.
He appreciated the footwork, the fundamentals, and the pure basketball savvy of these women; they were doing all the things he's been watching men do with less of a reliance on athleticism and more emphasis on their technique.
Bright's coaching career began as Sports Information Director/Men's & Women's Assistant Basketball Coach at Paine College in the early nineties; he then moved on to serve as Women's Assistant Coach at Temple University and assisted in the Philadelphia Catholic League at Conwell-Egan Catholic High School & Archbishop Carroll over the next decade.
He returned to the collegiate ranks as Volunteer Assistant Coach at the University of the Sciences in 2000, and coached CYO basketball at St. Mary Interparochial School from 2005 to 2012. His previous assistant coaching position was as Volunteer Assistant Coach at his alma mater, Cheyney University.
After a 2-17 record last year, Coach Bright has his eyes focused not only on this season, but on the seasons to come. One of his main goals is to promote the opportunity and experience gained in the Community College and Junior College programs, the available reps for freshmen and sophomores that may not be available at four-year universities that are littered with juniors and seniors across every roster.
With the girls currently on the team, Coach Bright looks to instill a defensive game plan, running simple offensive sets with hopes to control the game defensively.
His onus is put more so on the fundamentals than the plays run. He will look to focus on shooting a high field goal percentage, limiting turnovers, and rebounding the intangibles. Wins and losses are not how this Centurion team should be judged, but on the progress they make throughout the season under a first-year head coach playing chess in a league where everyone is so used to checkers.
Make sure plans are made to check out the women's basketball team this season. Remember that these players are not only your peers, friends, and classmates, but they are a representation of the college and should have the support of the student body.
Coach Bright looks to represent the school positively and filled with pride, and wants the school to know that as blessed and fortunate as he feels to be here, success ultimately comes from the students, not the coach. Bucks County Community College is looking forward to a very Bright future.