Men's Soccer Team Breaks Records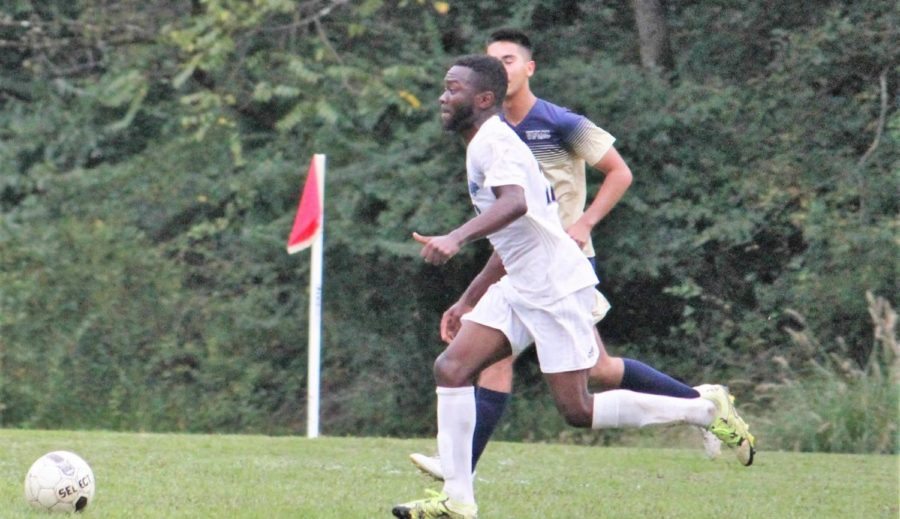 The BCCC 2019 Men's soccer team has proven to be a power team this season due to star players throughout the roster.
With three games left this season, the Centurions have already clinched the Eastern Pennsylvania Athletic Conference (EPAC) championship, but have their sights on the region XIX championship.
The team is looking to rebound after a crushing 8-1 defeat last season.
The 2019 season for the Centurions started out very strong as the team won their first five games, outscoring their opponents 24-6. Their first loss of the season came from defending XIX champions, the Vikings of Ocean County College by a score of 3-2.
The Centurions were able to rebound from the loss by winning their next four games in a row. They outscored their opponents 16-2 during their second big winning streak of the season, which was ended by a tough 2-1 loss from Rowan College South Jersey – Gloucester.
Despite the Centurions last loss, they've overall record is 12-2 this season. All while staying undefeated in the EPAC standings at 10-0. The team has only conceded 18 goals, and has scored a whopping 59 goals in 14 games.
The powerhouse on the offensive side of the ball for the Centurions is forward Salvatore Ficarotta, who has scored 13 goals this season the most on the team. Among his goals, four of them become game winning goals for the Centurions.
Some other key players that have helped contribute to the offense this year for the Centurions has been Zachary Shefsky and Christopher Clark. Both players have scored a hat-trick this year, helping lead the Centurionsto wins in both games of those occurrences took place.
As for the defensive side of the ball, goalkeeper Jorge Ramirez has faced a total of 56 shots this season so far, he's saved 42 of those shots from going in the net, resulting in a 75 percent save percentage. He currently has recorded four shutout performances and is looking for more of those within the next three games.
The success this season for the Centurions isn't from just the players, head coach Justin Burroughs has won over 150 games for the program since becoming head coach in 2005. Burroughs has also won head coach of the year in four of the last five years. Burroughs has led the Centurions from a sloppy four-win season to a championship contender, with playoff appearances in 10 of the last 11 years and looks poised to make another run at the XIX championship.
With three games left to go in the season, there's still time to see the Centurions play before the season ends. The last two games of the season will be played on Centurion home turf. The games will be played on Saturday, October 12 at 12 p.m. and Tuesday, October 15 at 3:30 p.m.