Women's Tennis Off to a Bumpy Start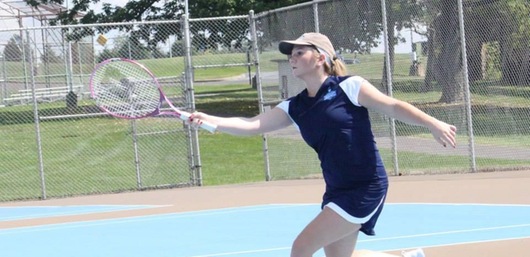 The Women's Tennis team is off to a 0 and 4 start as the team has yet to pick up a victory with one home loss and three away losses.
The team's first game was on Sept. 8 against North Hampton with a 9– 0 loss. With doubles being played by Bucks Sophomore Cailin Nally and Freshman Julia Shandley in round one, Sophomore Amanda Edson and Sophomore Lauren Daley in round two, and Freshman Andrea Nistor and Freshman Samantha Gillespie in round three.
Next the team played Ocean County College in back to back games on Sept. 23 and Sept. 25. With the Sept. 23 game being a home game resulting in an 8 – 1 loss, and Sept. 26 games a 7 -2 loss.
The most recent game was held at Camden County College and ended in a 9-0 defeat.
Students are beginning to
question what is causing this rocky start to the season and how it be fixed.
Arlo Vooz a second level education major from Sellersville said, "I think the reason they are off to a poor start is because of all the postponed and cancelled matches, they probably cannot find their rhythm because of the amount of time in between games, maybe when those games do get postponed they could train really hard to keep that momentum."
Kali Blake a Bio Medical major from Quakertown said,"Maybe the communication is off, the team should plan a girl's day where they go out with each other and get to know one another so the communication on the court will be better. If they work hard enough and they work as a team they can turn this season around; Team work makes the dream work."
Megan Kelly a Chemistry Major from Perkasie said, "I hope they can turn this around I would hate for them to have a negative season, they have all the potential I think they just need that motivation to really bring home the victory, maybe if they keep up this losing streak they will have something to motivate a comeback."
Although the team is on a four-game losing streak the spirit of the team only grows stronger as many students still believe that the team can turn this season into a comeback for the ages.
Kiersten Polachek a social work major from Sellersville said, "There is always room for a comeback I am not too worried only after four games, the amount of postponed games has probably had a huge effect on the
motivation of the team."
Students around Bucks are hopeful that their team will turn it around.
"For sure they can bring this back and turn it around, if they really work for it and put 110 percent they could do anything, I am really looking forward to the team to pull out the comeback and bring home a positive
season," added Arlo Vooz.