Bucks' SGA Election Approaches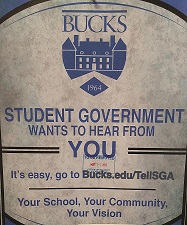 Tatiana Gordon, Centurion Staff
April 13, 2017
Students at Bucks will be able
to vote for the president, vice
president, secretary or the treasurer
position of the Student Government
on the My Bucks Portal on
April 24-April 28.
Anyone who is enrolled at
Bucks and has a GPA of 2.0 or
higher can apply to become either
the president, vice president, secretary
or treasurer of the Student
Government Association.
Theodora Dagkli Andonopolous,
20, criminal justice major,
is interested in the people and the
stories that each individual has
to offer. Andonopolous, in the
past was elected for the secretary
position for SGA but now she is
running for the president position.
Andonopolous looks up to the
current president of SGA, Razin
Karu and says, "as the time for
elections approached, I realized
that Razin has done such a
magnificent job creating a family
not only for SGA members but
for members of the entire student
body."
Andonopolous wants to follow
Karu's lead and doesn't want
students thinking of her as "higher
position student" but instead
wants students to come to her, her
team, or colleagues for support or
advice.
Andonopolous says, "my goal
as a president of SGA is to be a
voice for the students. I want to be
that bridge between the students
and administrators where students
will feel comfortable sharing with
me issues and matters that concern
them of any aspects."
Anthony Consoli, 25, psychology
major is running for the secretary
position of SGA. He became
interested in being involved in the
association about a year ago.
Consoli always loved volunteering
and staying active. This year,
he is involved in a number of
clubs and other activities.
SGA is one of the clubs that
he is taking and he says, "this
organization is a good support for
the school and is a voice for the
students if they have a concern.
The SGA is about giving benefits
to the students and helping to
make their academic easier."
Noor Dean Takiedine, 23, of
Holland is running for the president
position of SGA and decided
he wanted to run around the end
of February.
The most important accomplishment
for him is to spread awareness
of all activities, events and
the benefits Bucks has to offer.
Many students at Bucks are unaware
that having 30 credits can
lead to becoming an alumnus at
this school. Becoming an alumnus
can give an individual an opportunity
to get involved in certain
programs and taking advantage of
the pool, weight room etc.
Many students are also not
aware that Bucks offers 100
scholarships to those that are
qualified and Takiedine hopes to
make students aware of the different
scholarships that the school
provides and the process needed
in order to fill one out.
Takiedine said "my hope is
to gather and disseminate to the
student body information not
otherwise available that will be
helpful to students in making the
most effective use of their time
at Bucks County Community
College.
Helena Gallant, 22, a social
work major, is hoping for a
president of SGA to be personable
and caring for the needs of the
students. She hopes that the president
of the SGA will take pride in
the students and the school.