Student Life Holds Spring Clubpalooza 2018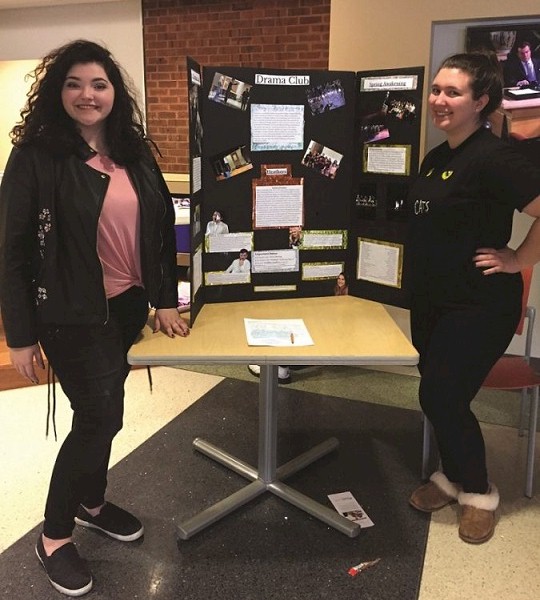 Hang on for a minute...we're trying to find some more stories you might like.
Curious students gathered in the Newtown campus dining area on Wednesday, Jan. 31 for the ClubPalooza event, where a variety of Bucks based organizations set up booths in the hopes of bringing new members into their ranks.
Around two dozen clubs had set up shop in the event area, each having a table with a sign-up sheet for interested students to put down their contact information to receive news from the clubs. Many of the clubs also offered pamphlets and papers with additional resources.
According to the Bucks Events Page, there are up to 50 clubs and organizations across all 3 of Bucks' campuses, and even though not all clubs had a booth at the event, it gave the students attending the event plenty of variety to choose from and opportunities to make a connection with a group or cause.
There are a wide breadth of benefits to joining clubs while at college, especially at a commuter school like Bucks, much of which goes beyond just creating social connections with your peers who share similar interests. It trickles into professional connections and networking.
Gabby Morgan, 19, a Communications major from Yardley, and Gia Folino, 19, a Speech/Language and Hearing Sciences major from Bensalem treasurer and president, respectively, of the Bucks Drama Club were among the attendees of the event. When asked about the benefits of the ClubPalooza, they were eager to give it praise.
"It's a good starting point," said Morgan in regards to the club fair format.
Folino added onto that idea. "It makes people more comfy coming to meetings, to be able to meet us ahead of time. It's an easy transition."
However, despite the large amount of sign-ups each club tends to receive on these days, not all students commit to joining.
Anthony Consoli, 26, a Psychology major from Bristol, is a very active member in multiple Bucks Clubs. From being the president of Psychology Club, to the secretary of the Student Government, he has experienced a view of ClubPalooza unlike others.
"It really depends on the club," Consoli mused when asked about the amount of students who commit to the clubs from this event. With his input and that from a few different club representatives, the ratio for commiting to club from sign-up sheet seems to be around a 10-20 percent.
The event saw a lot of traffic throughout the day. Jan Wyatt was there for personal enrichment with the Bucks Ceramics Club, a newer organization on campus, as the club president. She said the "high traffic hours were around 10 and 12 […] but people came in all through the morning."
One of those students walking through the event was Tatiana Gordon, 24, a Journalism major from Doylestown. This was her third ClubPalooza event, and as always, she said that everyone at the club booths were "very helpful".
"I try to join one or two clubs," she said, but continued with a realistic, "but it can be hard to find the time, while also getting an associate's degree."
If you missed the first ClubPalooza events on the Jan. 31 and Feb. 1, no need to worry. The Bucks Student Portal has a plethora of information available about the clubs and organizations on campus, even providing a complete list of clubs with contact information for representatives at www.bucks.edu/studentlife/clubs/list/.