Chef Earl Arrowood Plans to "Retire in Style"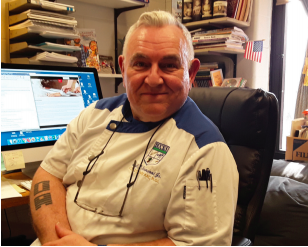 Long time Bucks culinary instructor Earl Arrowood Jr. announced he is retiring from Bucks following the end of the spring semester after about 36 years of teaching culinary courses.
Arrowood entered the industry when he was just 14 years old and has been in the culinary industry for 50 years. He has an extensive background in his field.
His careers include general cooking, sous chef, hotel and food and beverage auditing, food and beverage management, executive chef and hospitality industry, culinary arts educator.
His culinary career began during his undergraduate work at the culinary institute of America (CIA), which was a two year program he took during 1973 to 1975.
Once he completed his two year work, he decided to move to Miami Florida for his next undergraduate project from 1975 and spanned to 1980 for coordinating in order to achieve his bachelor's degree. Arrowood also became a member of the American Culinary Federation (ACF) during that time in 1978.
Afterward, he got married in 1980 and decided to return to Bucks County area where he trained to be a food and beverage director. His talents gave him a long history of experience as he worked at various jobs over the years.
Within four years of returning to the Bucks area, he was being interviewed by Bucks County Community College in order to become a culinary instructor in 1982, where he has been working ever since.
Before he got his job at Bucks, Arrowood worked as an executive chef at the Boston Sea Party Restaurant, a kitchen manager & general manager at the Seafood Shanty Restaurant, and was executive chef & food-fervice manager at the Homestead Nursing Home.
He started out as an assistant professor at first but was hired foremost as a hospitality management coordinator in a single kitchen in Tyler hall.
Arrowood then worked as dual coordinator from 1986 to 2000 where he became a professor in the culinary department. While he was teaching at Bucks, he was also working on his Masters degree and completed it in the summer of 1991 from Rochester Institute of Technology.
Before he officially retires, Arrowood may do a brief summer course after the Spring semester, considering it's his last full semester teaching, however nothing has been confirmed. He also plans to continue to consult in regards to culinary arts.
After that, Arrowood stated that he plans to "Retire in style" and already has a few ideas on how he is going to spend his time.
One of them being that he wants to travel with his wife. He plan to keep in touch with his students and plans to visit them to see their skills as chefs.
He also has plans to write a book about his life, career, and recipes he came up with over the years in the form of a memoir.
When asked about what advice he has for future students, he replied "Opportunities aren't just handed out, they have to be earned through hard work."