Get to Know the Editor in Chief of the Centurion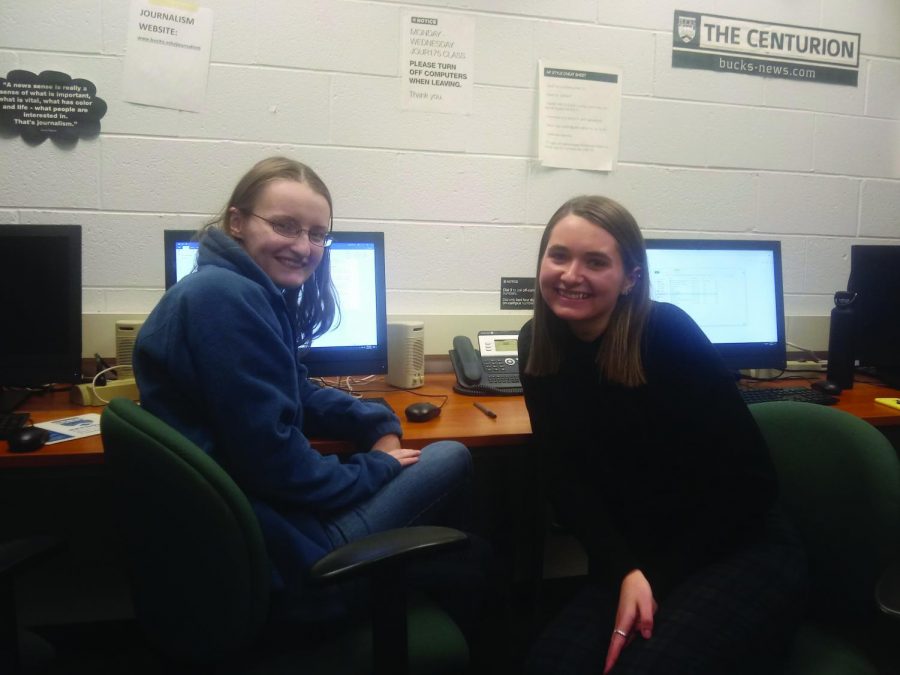 It's Jan. 30, 2020. Journalism class 276, Feature Writing, just ended. The Bucks Community College newspaper, The
Centurion, is about to hold its first meeting of the semester.
Students in the feature writing class just spent most of the period editing stories for the paper's first issue.
It's 12:30 p.m, when in walks a young woman with brown hair, wearing blue jeans and a pink and white shirt. She carries two boxes of pizza. The student in question is the editor in chief of the college newspaper, Sarah Siock.
Ever since the fall of 2018 when she first came to Bucks, Siock has been studying journalism. What lead her to decide on this major was a mix of not knowing what to do, and a love of writing.
"I know a lot of people know from a young age what they want to be when they grow up, but for me, this was not the case. I always struggled with what career path I wanted to pursue. I never felt like I had an overwhelming interest in a particular subject. During my senior year of high school, I felt a lot of pressure to pick a major for college. To me, it seemed like it was such an easy decision for all of my friends," Siock said.
Siock chose journalism since she always enjoyed writing.
However, her high school did not have a student newspaper which made her a bit hesitant when deciding to choose journalism as a major.
"I was definitely nervous that I would not have the necessary skills to be successful in the major. However, picking
journalism as my major was one of the best decisions I have ever made. I realized it was silly to be nervous because college is the time and place where you learn. After taking journalism classes at Bucks and becoming involved in the student newspaper, I finally felt like I found that passion or interest everyone else had," said Siock.
For Siock what makes journalism so special was the fact that it gives voices to ordinary people. Being a journalist doesn't just give her the ability to write news stories for the school newspaper, it gives her the ability to be involved and representative of the student body.
"The short answer is, I want to be a professional journalist because I like hearing the human side of stories," said Siock
Despite not working on a school newspaper in high school, Siock would quickly become The Centurion's editor in chief in the spring semester of 2019. At the time, this was Siock second semester at Bucks.
"The current editor in chief was transferring mid-year and a replacement was needed for the following spring semester, it is fairly unusual to have a new chief in the spring," said Siock
Siock speculates that one possible reason for her being chosen as the editor in chief was because of the interest she showed as a student reporter.
In just her first semester, Siock wrote several stories for the paper, attended the staff meetings and helped with The Centurion's
layout. With that kind of
dedication, it should be easy to understand why Siock was chosen to take over the ship.
"I was very humbled to be asked to fill the position. It's
provided me with many opportunities and has given me confidence as a writer. I feel like my journalism skills have really improved due to this role," she said.
Starting out as the editor in chief for the school newspaper was a bit overwhelming for Siock. This was her first leadership role. As time went on, Siock would get more comfortable as a leader. Her two Keystone Awards in the 2019 Pennsylvania News Media Association competition also helped her confidence.
"I do feel like I have fallen into place with the role. I now have a system that I follow for each issue of the paper. I would say it is a fun role and I enjoy working with my fellow editors. I am definitely receiving on the job experience which is extremely valuable," said Siock.
Siock's dedication to the newspaper stays strong, with her stating that there were times she would show up to school on a Saturday to work on layout for the newspaper, and stay hours after all her classed ended to edit stories. This isn't a complaint however, but more so an example of how time-consuming being editor in chief of the paper can be.
Stress does come with the job. For example, Siock's first issue she was working on as editor in chief, the campus was closed down due to snow on the day the paper needed to be sent out to be printed.
"So yeah, stuff like that can cause a panic but it's all part of the experience," said Siock reflecting on that day.
This is Siock's last semester at Bucks before she transfers to
Rider University. From there, Siock hopes to get her bachelors degree, and find a career in journalism.
Journalism Professor Tony Rogers, the faculty advisor to the Centurion, said Siock was one of the best editors in chief he'd seen at the paper in his 23 years at the college.
"Not only is Sarah excellent at editing and layout, she has a maturity and rock-solid steadiness at the helm that you don't often see in someone that age," Rogers said.
"My joke with Sarah is that I've got to convince her to stick around for one more year at Bucks because she's doing such a great job," he added.
Siock did not let lack of experience scare her away from begin editor in chief of The Centurion. She puts her neck out for the paper and does her best to organize it, work on the layout and make sure it gets sent out in time.
Siock said that she was going to miss working on the paper when she transfers, and we're going to miss her too. The next editor in chief for The Centurion has some big shoes to fill.