Poet Laureate Says He Writes to Survive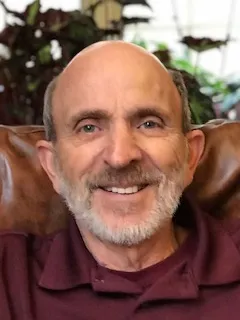 Poetry is not just a series of syllables or rhyming ramblings on a page but can be used as a form of therapy to give voice to unspoken emotions and soon you're "writing to survive," says Tom Mallouk, the recently announced 2022 Bucks County poet laureate.
73-year-old Mallouk, a psychotherapist, was awarded the top spot in the 46th annual contest, administered by Bucks County Community College.
Mallouk believes poetry helped him survive during a very challenging time in his life. At aged 20, in his junior year of college, he "got clubbed by cops in a protest." This later led to a psychotic breakdown, and he was admitted to a psychiatric hospital.
When Mallouk came out of psychosis, he began writing poems, yet "didn't fully understand what he was doing." He had no intention of writing poetry, but it just flowed and was natural.
"Sometimes breaking down is the beginning of breaking out," a line from Mallouk's poem "Self-Love," articulates this moment in his life.
"Having chaos and pain and turning it into something beautiful is the whole nature of art," says Malouk. His life's work in psychotherapy and his personal experiences allows him to connect poetry with healing.
"Being aware that you went through that pain," he says, and "being proud you overcame it; getting to know your emotions more and turning your feelings into art," he says.
Mallouk says that he "had undiagnosed dyslexia, had trouble reading, so learned by Subvocalizing," and "was always a little afraid of words." Then he discovered a form of writing "that was brief and didn't have to include a lot of words but still held much meaning." Poetry.
Later in life, he read a book called "Poetry of Survival," and one line stood out to him: "Poetry takes place at the threshold between chaos and order in the life of the Poet."
This resonated with Mallouk, and he realized that through his writing he was trying to make sense of "his pain and suffering."
"Poetry helps by taking the overwhelming emotions and turning them into something less chaotic, into art, more organized," he says.
"When bad things happen to us," Mallouk says, "there r two destructive elements: isolation and shame."
"A poem cuts into the isolation because we can connect to another person, mainly the reader or listener," says Mallouk, "and we're defying shame because shame wants you to be silent, shame wants you to stay hidden," but a poem breaks through all of this.
A judge of one of Mallouk's poems said that "he really focuses on the mundane things of everyday life."
"If we look closely into anything, there's beauty," says Mallouk. "Days go by so fast, moments turn into memories in a blink of an eye, and poetry makes you emphasize the beauty in all of those moments and little glimpses."
Poetry and writing have the power to heal. Mallouk still loves to write poetry, and the award of poet laureate pays homage to his dedication and the power of words.
"I was writing to survive," says Mallouk.