Centurion Wins 11 Journalism awards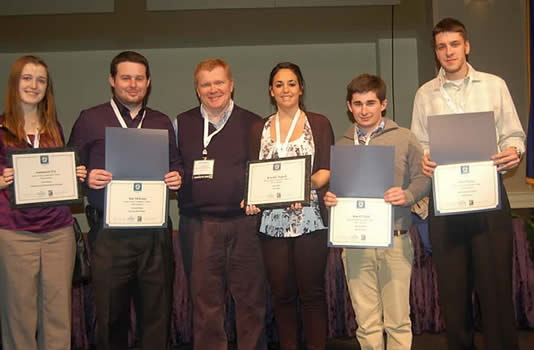 It is apropos that the
Centurion won 11 awards in
2011, more awards than any
other community college in the
state during the student
Keystone Press Awards contest.
sponsored by the
Pennsylvania newspaper
Association Foundation, the
competition this year granted
awards in 30 categories.
bucks took four first place
awards including one for its
website. Professor tony
Rogers attributes the judge's
attention to bucks' website to
the fact that it is "very comprehensive,"
a testament to the
hard work of the students. he
said, "I think our web editor,
Rosalie napoli, has been getting
the paper up quickly," so
it's timely. editor Ian McLean
thinks it's also because of the
way the website is organized.
he elaborated, "It's all full
PDF and it's user-friendly. It's
easy to get around on. We do
have a full media archive there
too," he said.
While each award brings
more prestige to the Centurion
at bucks, one stands out with
the student writers. the first
place win for "Downsized
dreams: A special report" in
the public service/enterprise
package category was "a real
group effort," according to
Rogers. student Lauren hicks,
a named contributor, explained
"Well basically, the whole
[class] got together and we
picked a topic that we thought
we could do a lot of articles on.
And we picked the idea of the
economy and how students
today are facing the idea of living
at a lower standard than
their parents before them.
We're the opposite of what the
American Dream has always
been."
each student then selected
topics based on the theme to
write about. "so," hicks said,
"even though it was a group
thing, we still each got to write
our own articles."
Ian McLean had much more
to say about it though; "I
thought that issue was the best
we've ever done period. I
mean, as far as looks, layout,
everything. And that was
acknowledged for best package."
In addition to being among
those credited for the website
win, McLean also won one
second and one third place for
issues in the layout and design
category. "I'm happy about it
because it means that two out
of three of the best issues in the
state for design went to me.
I'm a little disappointed that I
didn't get a first. I guess two
out of the top three isn't too
bad."
Dan Perez was genuinely
surprised by his third place win
for "Competitive Matches for
bucks golf" in the sports
story category. not a golfer
himself, Perez said one reason
he likes writing for the paper is
the variety of topics he covers.
"you know, I learn about these
things. Rarely do I know that
much. I'm never an expert
going into it, but I like to
research it so I have some
questions to ask. And then,
coming out of it, I always
know a lot more about it than I
did. And that's kind of like my
favorite thing working with the
newspaper" said Perez.
the 11 awards went to the
following:
First Place – Feature story
"heavyweight Dreams of
James goins"
Matt Flowers
First Place – Public
service/enterprise Package
"Downsized Dreams: A
special Report"
Lauren hicks, Annmarie ely,
Matthew stumacher, Matt
Flowers
First Place – Website
the Centurion
Rosalie napoli, Ian McLean,
tony Rogers, Centurion staff
First Place – general news
"healthcare Reform Impacts
bucks students"
John MacDonald
second Place – Feature story
"Remembering hoey"
Annemarie ely
second Place – Layout and
Design
Centurion Volume 45: Issue
13
Ian McLean
second Place – sports story
"A history of the negro
Leagues"
Jim o'neill
second Place – general
news
"Prof. Denies global
Warming"
John MacDonald
third Place – Layout and
Design
Centurion Volume 45: Issue
16
Ian McLean
third Place – sports story
"Competitive Matches for
bucks golf"
Dan Perez
third Place – general news
"negative Political
Advertising"
John MacDonald
Award winners will be formally
recognized at a luncheon
in hershey, PA on March 16.
the Pennsylvania newspaper
Association will further honor
students' award winning work
by showcasing a collection of
the first place winning entries
on their website for publishers,
editors and the public to view
at www.pa-newspaper.org.