Local guitarist Adam Honeycutt wants his music to be heard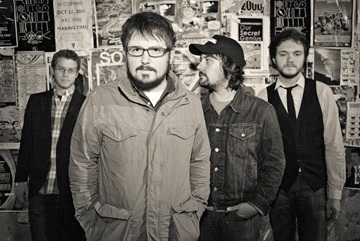 Hang on for a minute...we're trying to find some more stories you might like.
I arrived to the bar at 10 p.m., just in time for happy hour. The crowd was diverse, and spread throughout each nook and cranny that the pub had to offer, enjoying their half priced beers. I stare idly at my drink as I am waiting to interview Adam Honeycutt, 29, a musician from Newtown, who lives just a block away from the bar. As I repetitiously lift my glass from the oak bar, I receive a text message. "I'm running a little behind" he says, then follows with "musicians are always late." Perfecting their craft is an escape in which time is lost. Appointments and engagements aren't necessarily second place, but it seems to happen more often than none.
I keep checking the door to see if he had arrived. No such luck. As I am about halfway through my drink I hear the door slam shut. I peer over the bundles of patrons and see that his neck is outstretched, scanning the room right to left, like a periscope. His elegantly disheveled hair and his black framed glasses stuck out like a sore thumb in the midst of the crowd of "normal people." Honeycutt resembles a lumberjack. He has a thick beard, a flannel shirt, and a bigger build than one would expect. We meet somewhere in the middle, and with the handshake, one could tell that his hands are rough; years of calloused fingers goes with the territory of playing guitar.
The main struggle in Honeycutt's life is that he feels he lives in the wrong decade. Music today is not the same as it was 20 years ago. The styles and business aspect have changed drastically and Honeycutt doesn't know where he fits in. The desire to succeed and "make it" is everyone's childhood dream, but Honeycutt has something that most pop stars don't have: artistic integrity. But being an analog man in a digital world leaves him frustrated. His whole life has been dedicated to music and at the prime of his life the state of music isn't where he thinks it should be. He doesn't want to top the charts, he just wants to be heard.
Honeycutt has an interesting life, although some may view it as exhausting. Every day in his life has a unique soundtrack in which he composes in his head. Every facet of his life involves music. When he is not writing, recording, or rehearsing with his band The Grand Nationals, he teaches music to children. He enjoys spreading his knowledge of music and guitar playing to his students; "I like inspired students, finding kids who are like me. It's a lot more than just guitar lessons; its therapy, for the students and myself." His students look up to him, as he is not the typical teacher. He has the "hip" aspect that students look for in a guitar teacher. They can tell that he knows what he is talking about, and he isn't forceful with the basics of learning guitar. His rule is that he wants his students to be comfortable with the instrument before they take on the homework aspect of the learning process.
Adam Honeycutt realized he wanted to play guitar when he was first introduced to Bruce Springsteen, by his father. The first time he heard the crooning of the New Jersey favorite, he knew that music was the road that he wanted to take. He first laid his eyes and hands on a guitar at the age of five. It was love at first sight. While other kids were out playing throughout the neighborhood, Honeycutt was in his room; devoted to his six strings.
For Honeycutt, bands came and went. It wasn't until the demise of two local bands; that forged Like Lions. With Like Lions, Honeycutt and his musical partner Greg Itzen, formerly of Days Away, had their first taste on notoriety. The music is diverse and it touches on elements of rock, jazz, and folk. After recording a demo EP entitled "Cheap Seats," independent record labels got wind of the music, and all expressed interest in signing Like Lions. Honeycutt felt uncomfortable with the whole situation. Things came too easy for the band. Success and stardom started out of nowhere and in little time.
In the fall of 2005, the band was flown out to California to meet with We the People Records, in which a deal was offered. They sought out the advice from members of The Starting Line, another Philadelphia band who was previously signed to We the People.  They were warned that the label was too independent and would not be a good start to gain a wider audience. Matt Watts and Tom Gryskewicz of The Starting Line decided to manage Like Lions and find them a better deal with a more prominent label.
Like Lions was taken on a national tour, supporting The Starting Line. Honeycutt recalls, "It was insane, every show we played was sold out." It was this tour that led Like Lions to signing to Jive Records. The band was offered a five album deal. Jive Records paid for the band to record their first album, but Jive wanted new music, no re-recording of older songs.
The band struggled trying to write new material for the album, but it just wasn't working. Honeycutt and Itzen ended up kicking out members Dan Kaplan and Greg Altman. The band hit a lull where writing, rehearsing, and recording barely occurred. "We only had four songs done by the time we were supposed to record the whole album," adds Honeycutt. "It was laziness that broke the band up," he concluded.
Honeycutt grew disillusioned by the music scene. He met a lot of "fake" people and he didn't want any part of it. "We didn't feel what we were supposed to when we got signed," said Honeycutt. In late 2008, the band got back together and decided to take a different approach to their music. They added a slew of new members, and they were writing what Honeycutt felt was Like Lions' best work. Still under contract by Jive, the band sought out to write more music and to finally record their first album for Jive.
In late 2009, Like Lions finally and officially called it quits. Honeycutt, still teaching guitar lessons, got sick of music. He didn't like the false personalities that he had met on the road, he hated the pressure, and the multiple fallouts that followed the dissolution of Like Lions left Honeycutt bitter and uninspired.
Out of the blue, Honeycutt received a call from his friend, Ian Bennett. Bennett used to co-produce the music for Like Lions, and Honeycutt helped Bennett with his old band, We Are Castles. Bennett wanted Honeycutt to visit his new recording studio in Trenton. The studio was an old radio station, renovated into a beautiful recording studio.
The two began playing together, just for fun. "We jammed, it felt good, and we wdrote some decent tunes," Honeycutt stated. He left Bennett's studio feeling good, feeling something he hadn't felt in a long time.
They started corresponding musically, one would record a track and the other would add more music or even vocals. It was after a handful of songs were finished that they decided to form The Grand Nationals. "It was easy, no egos, just fun. We formed around early May, and we had a record written by the end of June," he recalled. The style changed a little bit from Honeycutt's previous band. He abandoned his jazz style guitar work that was heavily featured in Like Lions; "Jazz guitar always felt a little stiff and rigid to me, I always consider myself more of a bluesy guitarist," he adds.
 The Grand Nationals embrace more of the folk/country aspect of their songwriting. The acoustics are smooth and easy on the ears, and the dual harmonies propel the music in a compound of pleasantries.
The two called local violinist Sam Barnes, and the roster was completed. Adding a violin player gave the band a more diverse sound, able to transcend between folk and country almost effortlessly. Within less than a year, the band had written, recorded, and pressed their first record, "Tennessee Rain." Honeycutt felt pride because this was the first time he had a pressed record. Most of the Like Lions recordings were passed along through burned CDs. He admits that it's the first time he really put effort into his project. "I never had anything to show for myself as a musician, but we had an actual record and we sold out of the 500 copies that we had made," Honeycutt explains with pride. "We were doing the exact opposite of what Like Lions did. We had actual management, Brandon Ginsberg of Red Light Management (Dave Matthews, Faith Hill, Phish)," adds Honeycutt.
The Grand Nationals haven't been on an extensive tour yet, but that day is soon approaching. They have played shows all over the tri-state area and hope soon to expand to coasts. Southern states have got wind of The Grand Nationals, and the feedback is positive.
Honeycutt and co. were invited to participate in SoFar, an organization that specializes in "secret shows". Once the tickets for said show are purchased, the location of the show is revealed, and it is often in a random apartment in Brooklyn, New York. "There was a good response, and it was better than a packed bar. It was one of the best shows I have ever played," he said. This secret show was a way of connectig with the audience, rather than playing the set and following with the "thank you and goodnight" speech.
Honeycutt is a busy man, but still finds time to teach kids the beauty and skill of music. "I hate that it is a job. If I had another source of income, I would teach music for free…grants are accepted," laughs Honeycutt. His specialty when teaching students, is teaching them to be songwriters. It inspires him and it keeps him grounded. He wants his students to share his passion of writing music, and he does an excellent job inspiring his students.
The one thing he seems to struggle with is the state of music today. "Kids seem to only listen to what they saw on TV, or what they heard on the radio. They like what they are told to like. They need to find other avenues to get music. "Listen to more Bruce!" he adds.
The state of music today is in a flux. What is popular and sought out is regarded as "cookie cutter." Honeycutt expresses contempt for what people consider music today. "It's these song writing teams that live comfortably in their mansions, living in obscurity, writing music for pop stars. The reason all pop music sounds the same is because it is the same people writing the music." Honeycutt discussed the 80's, and how music was divided but not neglected, "You have your bubblegum stuff, and you have the actual music. Now it is like x-rated bubble gum and no one listens to the actual music. Bands like Mumford and sons and Gotye could be a step in the right direction."
Reflecting on himself and his own career aspirations, he admits that it is difficult. "Around here, that hipster dance music is what is popular, and rock music is sort of neglected." His main struggle is that talent is overlooked and gimmick is embraced. "You wouldn't hire a shitty mechanic to work on your car," he adds. Honeycutt isn't looking for a lavish lifestyle, he just wants his music to be heard and appreciated for what it is. He waits for the day that non top 40 music is played in stores and on the radio. "It's tough to be good at something, and watching others who aren't, succeeding," he states. He feels that success with pop artists is unwarranted and undeserved. To him, pop music is devoid of passion and talent, two main attributes that make up Honeycutt's lifestyle.
"It feels like no one connects with music any more, if an artist is around for four years; it's like a big accomplishment," he adds. Honeycutt expresses his disgust when it comes to local radio stations and how he feels the music is repetitive, and that XPN is a "life saver" for the Philadelphia area. "If it wasn't for XPN, there would be nothing around here."
Adam Honeycutt knows what he is and what he isn't. He knows his likes and dislikes. He does what he loves and he doesn't have to apologize for it. No matter what happens in his future, it is certain that he will always have a love and passion for music that exceeds a weekend hobby, or a boredom tactic. He plans to keep it going as long as he can; to play music until he doesn't enjoy it anymore. He is taking his music at his own pace, but embedding his efforts and himself, with little expectation, just that satisfying feeling of doing what one loves. "
The Grand Nationals are playing at Triumph Brewery in New Hope on Feb. 24 at 9 p.m.