Board of Trustees Passes Measure to Allow Armed Guards on Newtown Campus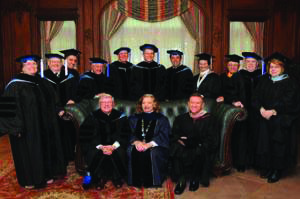 Danny Sands
February 22, 2018
On Thursday, Feb. 8, the Board of Trustees approved a new Governance and Compliance policy that would allow the arming of security guards on campus under Act 235.
This new policy will allow three security guards, one of them being Director of Safety and Security, Dennis McCauley, to carry firearms while on campus. The decision to arm guards was initially proposed as a stronger security measure against a possible active shooter situation on campus.
Bucks is not the first college in the area to adopt armed guards. Many surrounding colleges such as Temple University, Drexel University, Harrisburg Area Community College, and Montgomery Community College have some sort of armed security policy in place. Many of these local colleges have adopted Act 235, which is the same state law that will be applied at Bucks.
Act 235 is a PA state law that "provides for the training and licensing of watch guards, protective patrolmen, detective and criminal investigators, carrying and using lethal weapons in their employment…" as stated at psp.pa.gov.
Many students oppose the measure, but some are keen on the idea, particularly following the recent massacre in Parkland, Fla.
According to the Department of Education, there are 1,462 community colleges across the nation. And recently more and more of these community colleges have been arming their security.
There is no word on when this new policy will go into effect.