Is it too soon to reopen America?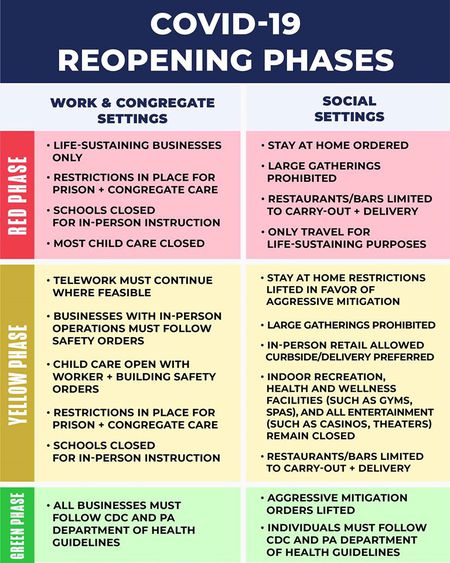 People across the world are being told to self-quarantine due to the coronavirus outbreak, and it has caused some controversy. While most agree with the stay at home orders, some Americans think the country needs to get back on track.
Sean Chelak, a Finance and Management major at Temple University, said, "I agree with the quarantine orders until May 1st. We need to get people back to work. PA needs to enter phase one of reopening America again."
With this new virus, strict stay-at-home restrictions have been implemented in both states, with some even putting the entire state on lockdown. While some are on lockdown, some states are considering reopening.
Gov. Tom Wolf just announced that Pennsylvania will enter two phases beginning May 1st. The first phase is called the red phase which restricts large gatherings and the stay at home orders will remain in place. Life-sustaining businesses will be the only businesses allowed to be open and schools and childcare facilities will remain closed. Restaurants and bars will remain to take out only.
The second phase of Gov. Wolf's plan is called the yellow phase. The yellow phase still restricts large gatherings and face to face instruction for schools will remain closed. In-person retail will be allowed, but curbside and delivery will be recommended. Recreational centers will remain closed and restaurants and bars will remain carry-out only. However, the stay at home order will be lifted in favor of aggressive mitigation.
Drexel student Michael Donahue sees both sides of the story. "I agree with it for the most part, like being forced to wear masks if we go out. The thing is, being forced to stay in is taking away our basic civil liberties. But at the same time, the death tolls are way lower than they would be if we were all out and about", said Donahue, a computer science major.
Pennsylvania is one of the hardest-hit states with, 34,000 confirmed cases, and the number just keeps rising. With the numbers increasing, some people are concerned with everybody still going outside.
Brady Dierolf, a sports management major at Bucks said, "I think people should stay inside unless it's necessary and the only way I think that it is right for everyone to go outside is when numbers are low."
Sam Mastropietro, a communication studies major at Bucks said, "I agree with the quarantine orders. Even though we all hate being stuck inside, I think it's more important to stop spreading the virus."
A major issue is not all citizens are obeying the stay at home orders. Just last month, hundreds of students were seen at Florida for Spring break after being warned to stay inside. Hundreds of beaches and parks have since been closed.
"I think we should distance for a while, and make sure to use gloves and masks at stores," said Jordan Love, a small business and entrepreneurship major at Bucks.
In Bucks County, all public parks have had their basketball rims taken down and the jungle gyms closed. This has been done in hopes to have more people stay at home. Still, with all these precautions, people are still taking unnecessary travel.
"I agree with the orders. I feel that it can really help people to stay home. If it means saving lives, then we should obey the rules and do as they say. More and more individuals are being exposed to the virus and although it won't kill everyone, the more we are around each other the more it will spread," said Breanna Patittuci, a neuroscience major at Holy Family University.
Stay at home restrictions are beginning to be lifted in other states as well. Alaska began opening businesses and lifting certain restrictions on April 24. Georgia gained criticism after Gov. Brian Kemp said businesses such as gyms, hair salons and barbershops could open April 24 and theatres and restaurants could open April 27.
Other states have pushed restrictions back further, with some even going until June. Illinois extended their stay at home date until at least May 30 and Idaho's could last until June 13.
The total new reported cases over 14 days have to be fewer than 50 per 100,000 residents for a region to start reopening. As of yesterday, Philadelphia's 14-day total per 100,000 residents was 392. With the number of cases rapidly increasing in Pennsylvania, the hopes for the state to meet the deadline for their phases are decreasing.