"Drive"
Directed by: Nicolas Winding Refn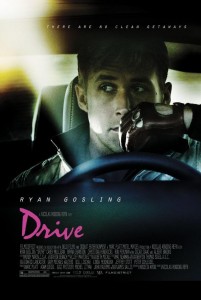 Starring: Ryan Gosling, Carey Mulligan, Bryan Cranston, Albert Brooks, and Ron Pearlman
Rating: 3 out of 4
"Drive" begins with one of the most suspenseful and intensely thought out openings in film history. This film isn't your typical heist movie, and it is nothing like "The Fast and the Furious." It is simply a story about a man, with no name, who happens to know everything about cars. He works as a mechanic and a stunt driver on film sets, but at night, if the job is right, he moonlights as a get-away driver.
Gosling's character, aptly titled Driver, is an absolute character. The viewer knows nothing about his past and assumes that the character is and always has been. Fans of Gosling may be disappointed as the character barely speaks the entire film. It is reminiscent of the famous Clint Eastwood saga "The Man With no Name."
Gosling does an excellent job with little dialogue. His emotions are on his face, even though he looks stoic at some points of the film. We can tell from the first 15 minutes of that the driver is lonely and kind. He offers help to his neighbor Irene, played by Carey Mulligan.
He drives her and her son around, even after learning that the husband/father is in prison. The romance or lack thereof is believable and natural. There is an endearing innocence to it.
The movie hits a lull for a bit, but quickly rockets into an intensely thrilling joy ride.
Like every young hot shot, the driver has a mentor played exquisitely by "Breaking Bad's," Bryan Cranston. Cranston plays "Shannon," an old mechanic/stunt driver with a leg brace, a nod that he tends to get in too deep.
The villains in the movie are played by Albert Brooks and Ron Pearlman.
 It is an interesting choice for Brooks, who usually sticks to the neurotic comedy, and his portrayal of a villain is a little forced, he seems out of place and unnatural.
The feel of this film is retro. It is homage to the 1960s and 1970s car movies. The style of the film is very 80s. The pink cursive credits and the modern yet retro soundtrack give the film a unique style.
The opening credits awkwardly take the viewer out of the intensity of the getaway and into a beautiful shot montage of Los Angeles at night.
"Drive" is rated R for strong bloody violence, language, and brief nudity.