The man behind the sunglasses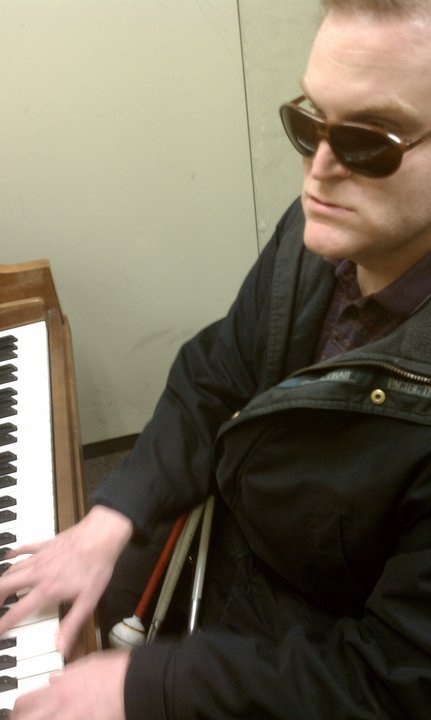 Walking across the cafeteria one early morning is a tall, average looking man, save for the dark sunglasses resting on his nose and the white collapsible pole that he swings from side to side like an antenna surveying the landscape.
A mess of curly brown hair circles the bald spot on the back of his head. It whips, tosses and twists. Bennett Aniloff is not an exceptionally big man, but he still appears to have a certain amount of strength about him. His chest is broad and heavy and his facial structure, tough and rugged; he has a strong jawline with a protruding chin, a pronounced brow, and worn-out skin.
Despite his build however, the blind man's gaze seems gentle and innocent. His feet fall lightly, a trick learned from tripping over one too many curbs. He moves wearily through the scattered chaos of chairs and tables.
SMACK! His Hoover cane hits a woman's chair.
"I'm trying to find a place to sit," Aniloff explains. The woman offers him a chair and he immediately strikes up a conversation. An awkward, but extremely friendly person, Aniloff often approaches strangers and tries to engage them in talk. His voice is soft.
Aniloff rarely talks about himself, and when asked about his life he says he doesn't think it is very interesting.
He moves around uneasily in his seat and begins spouting out the facts:
Born in Philadelphia to parents Michael and Diane, Aniloff started his life in darkness. Born two months premature and completely blind, doctors diagnosed Aniloff with R.L.F./R.O.P. (Originally called Retrolental Fibroplasia, now had been renamed Retinopathy of prematurity.)
The condition is one of the most devastating and controversial ocular conditions involving young children. It was said to be caused by excess oxygen given to premature infants, but current theories suggest that the actual cause may be unknown.
"I almost died," Aniloff says. "For the next four months after I was born, I was put in an incubator."
Despite being completely blind, Aniloff participated in glee club and the bell choir at Overbrook School for the Blind in Philadelphia. He was named valedictorian his senior year.
"That's about it. I don't think my story is that interesting," he says. The table is quiet for a few moments as Aniloff fidgets with his hands and occasionally twitches his head left and right.
"I like to play piano," he said simply, "Jazz piano, would you like to hear me play?"
We headed for the Multimedia building across campus, where the pianos are housed.
Going down a set of stairs, Aniloff taps the white walking pole against each step, cautiously holding the hand rail. He begins to tell his real story.
While working in the office of the Seneca day camp in Blue Bell that his parents ran, Aniloff found a piano sitting idly nearby. His fingers, though awkward at first as they stroked the unfamiliar keys, soon grew comfortable with the instrument. Aniloff started taking jazz lessons at Settlement Music School in North East Philadelphia, at the Mary Louise Curtis branch.
Since that day at Seneca, over 29 years ago, has Aniloff worked diligently at his craft; from his first show at Lancaster's Host Resort and Conference Center to eventually playing the National Anthem for the Philadelphia 76ers at the Spectrum Stadium. 
"I played for [the 76ers] for five years from 1982 to 1986," he says, scratching his wire-like hair. During that time, his mother acted as his agent, finding him various gigs to play. Eventually he accumulated a repertoire of original pieces, oldies, Broadway hits, and show tunes. Nowadays, Aniloff mostly plays at country clubs, cocktail parties, and weddings. The King George Inn in Allentown, Vaders Bar and Grill in Southampton, and the Buck Hotel in Feasterville are some of his favorite spots to perform.
Ambling down the river-like paths that spider-web the campus, Aniloff occasionally steers off course. I'd direct him back on track using the sound of my voice, his cane beating the edge of the walkway, sending the freshly shoveled snow exploding into the air.
"Does the snow make a difference?" I ask.
"I hate the snow," he says. "It's more confusing."
"Is it hard for you to get around campus?"
"I try to use landmarks and objects. I use to get lost a lot. I would get lost and I would have panic attacks. I still get lost sometimes."
Aniloff has taken various classes at Bucks over the past 14 years, but has yet to earn any degrees. Mostly he takes music classes, with a few general education courses. He came to Bucks in 1997 on a whim, receiving a letter in the mail that offered Aniloff a scholarship from the college as an incentive for him to attend. Though it wasn't a full ride, it was enough to motivate him to start taking courses. Aniloff plans to eventually transfer to Temple University in Philadelphia to  continue studying music. He'd like to one day teach jazz piano, maybe even at Bucks.
Aniloff is currently living with his father in Bensalem. He has two sisters, but they have both moved away from home. Aniloff walks most places by himself and enjoys taking public transportation, which is how he gets to Bucks everyday.
In his free time, Aniloff enjoys spending time with people and goes bowling on occasion.
"I'm writing a book," he says, adding: "It's all about my life. It's not finished yet though. I'm trying to figure out exactly what events and dates I want to put in it."
Aniloff reminisces about his time spent playing piano over the years, in particular about performing on television, once for Channel 6 News, and again on the Emmy-nominated show, "Check it Out."
Finally reaching the Multimedia building, Aniloff walks directly to room 008 and opens the door. Inside is another, smaller, closet-like room with a glass door.
Without turning on the lights, Aniloff begins to play "Satin Doll" by Duke Ellington on the small wooden piano. His fluid fingers softly tap each ivory key.
As the music fills the room, Aniloff sits with a straight back and glares ahead, lifting his head up just a little. His hands, no longer fidgety and bored, navigate the keyboard effortlessly.  He doesn't miss a single note.