Professor Freeman pursues the writer's life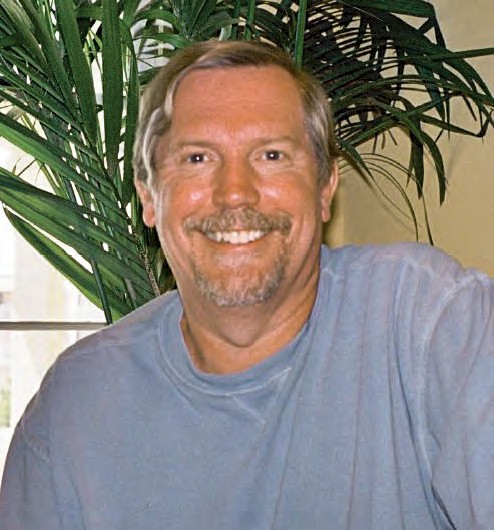 Billy Kerins
March 7, 2012
A lot of students sitting
through an English composition
class might struggle to
keep their eyes open as professors
reiterate the same grammar
and structural fundamentals
that students have been
learning since grade school.
However, this is not the case
with Professor James Freeman.
The packed classroom of 32
students who sit quietly and
seem to be paying attention for
the most part listen as
Freeman lectures not about the
assignment that's coming due
or anything class related, but
just about life.
"I can't believe you're an
author!" one student blurts out
randomly, referring to one of
Freeman's novels, "Irish
Wake." About a half hour into
the class Freeman says sarcastically,
"Ok, now it's actually
time for class."
Later in his small office,
Freeman apologizes for the
lack of space; most of the Penn
Hall room is taken up by
books.
"I read a lot because I write a
lot; I think any good writer
does," Freeman said.
"Teaching is my career but
writing is my passion; I like to
touch souls through my writing."
Freeman had big dreams ever
since his high school days. He
was determined to be a bestselling
author and win a
Pulitzer Prize for fiction.
Freeman, laughing, admits that
"none of those have happened.
Instead I'm here talking to
you."
While it's clear that Freeman
had big dreams with regards to
his writing, he now just wants to
tell a good a story, or in his
words, "touch souls."
Freeman has been an educator at
Bucks for more than 20 years in the
Language & Literature
Department, teaching literature
and composition classes. But
his true passion has always
been fiction writing.
"When I was 4 or 5, I
would write these animal
fables, but I didn't really think
of writing as a living until I
was older," Freeman said.
His writing dream began
when he was a junior in high
school, working odd jobs
while attending classes.
"I worked at the census
bureau and I would go around
and knock on doors and ask
people how many people were
in the house and stuff like that.
Back then it was assumed that
people were friendly to us, but
they weren't. So when the census
people come by my house I
always make sure to be nice,"
Freeman said.
The first serious story that
Freeman wrote was for a creative
writing class. The subject?
His odd jobs.
"The teacher told me it was
one of the best stories he ever
read by a student. That gave
me a lot of confidence,"
Freeman said.
In all, Freeman has 18 books
in print, though he noted that
some of them are just "small
essays."
He wrote "Ishi's Journey from the
Center to the Edge of the
World," but felt his best book
was "Parade of Days," a story
about a group of homeless people
who take shelter
in a library.
"I made the story based in
the Bucks library; it actually
happened in a local library, and
I was able to use the newspaper
article written about it at the
end of the book," Freeman
said.
He noted the title was based
on how different the life of a
homeless person is.
"Every day is something different,
something new, kind of
like a parade," Freeman said.
Freeman taught at Humboldt State
University in California and
Southern Oregon before starting
at Bucks in 1982.
"When I graduated grad
school, there weren't a lot of
jobs out west, so I applied out
here and got an interview. I
haven't left since," Freeman
said.
"This is home for me
now," Freeman said, "but it
took a while for me to call it
that. I'm comfortable here.."
Freeman said he envisions
teaching for another 10
years, then retiring. As for his
writing he noted that he's taking
a break. His last book,
"Irish Wake, in Loving
Memory of us All" was
released last fall.
"This summer I'm going to
get back at it, I have some
ideas written down," Freeman
said.