Focus on Bucks professor Michelle Pentimall-Bookler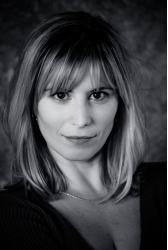 She's been called many things; actress, director, choreographer, playwright and professor. But to most here at Bucks County Community College and at home, people know her as Shelli, an associate professor of arts in the Communications department. Shelli teaches many classes here at Bucks, including Effective Speaking, Interpersonal Communications, Introduction to Acting and Introduction to Theatre.
How do Buck's students feel about Shelli as a teacher? "She's a really tough teacher," says one anonymous Effective Speaking student. "She gives out really tough assignments and forget it if you miss a class or a presentation."
In refute, Brooke Logan, 20 of Warminster said her toughness shows a dedication to her students.
"I hate doing hard work for a professor that grades easy," she said. "I want to work for my good grades and earn them.
This sense of dedication was instilled in Shelli by her mentor, Dr. Annette Martin, a now retired professor of communications and theatre at Eastern Michigan University, where Shelli got her Masters in Theatre. Shelli regards Martin as her mentor. "She is an incredible, strong performer and director. She started out in a department that was very male-oriented and she had to work up through the boys club of academia and theatre. She was really intimidating and liked to make people cry, but it really came from passion. She showed me how to be a more effective artist."
Martin helped hone in on Shelli's skills as a playwright as well. "I was taught how to create new work from weird and non-traditional sources, like poetry or anything you can really turn into a performance." This is where Pentimall-Bookler gained her inspiration for Addicted, Bucks's Spring 2011 production. Addicted was adapted from a book of narratives of drug addicts that told the story of their struggle and what their life was like. Shelli gave a real voice to these people by adapting the narratives into a stage production.
Shelli hopes to one day transform Addicted into a musical. "I just got approval from my advisor at Temple to make the musical version of Addicted my thesis. I'm really excited. I'm also working with a music director and a friend of mine who is a composer so that we can really get it going. I just finished writing a song called More, More, More and I'm very happy with it!"
Shelli is very passionate about playwriting and she makes sure that she is passionate about the topics that her plays focus around. "Temple is going to be doing a staged reading of my play Pieces of the Pie." Shelli exclaims. You can tell she is excited.
Pieces of the Pie focuses on an older couple. The husband has been diagnosed with vascular dementia, a disease that comes on strong and fast and often causes violence in those that are suffering with the illness. The wife's physical and emotional struggles about taking care of her husband and deciding if it would be better to put him in a home are documented in this play. "I like doing plays that are going to have an effect on people or bring awareness to something that not many people are aware of." Shelli continues.
"Though it was always my dream to play Sheila from A Chorus Line, a part that I was fortunate enough to have played a few years ago, my most rewarding experience as an actress was when I was a part of the cast for Lebenstraum, a play by Israel Horovitz. The play is about what would happen if the German chancellor tried to make amends for the Holocaust by inviting 6 million Jews back into Germany and giving them houses and good jobs and just taking care of them. There are only three actors, but we each played 15-18 characters and the play is all the different reactions that this movement would have, be they positive or negative." Shelli pauses for a moment and takes a deep breath.
"And the reason this was so rewarding for me was because after the show, this nice older man came up to me and said, 'You have to meet my wife!' So, he goes and he pulls her over and she just gives me a big hug." Another pause as Shelli wipes a tear away from her eye. "She had tears in her eyes and just kept saying 'Thank you, thank you!' and then she rolled up her sleeve," More tears and Shelli reaches for a tissue. "And I saw the tattoo. It's really inspiring to know that your performance can have an effect like that on people."
At Bucks, Shelli is currently working with students and directing this spring's production, 12 Angry Jurors. It is Reginald Rose's adaptation of 12 Angry Men, a story that follows the deliberation of a jury when deciding on the fate of a young boy who allegedly stabbed his father.
Why was 12 Angry Jurors chosen to be a part of the Arts at Bucks? Shelli says, "In Introduction to Theatre, we talk about political plays. In class, I use a play called The Exonerated which tells the story of people that have been found guilty and put in jail and then exonerated by people working in the Innocence Project, a group that works to find the flaws in our justice system to help release men who are actually innocent. Most people know the movie 12 Angry Men and it was nice to be able to have a bigger cast. And it focuses on something that is still a problem today, and that is discrimination."
When it comes to directing, "It's hard to give up control." Shelli laughs. "Because you have to trust the actors when it comes time for the performance that they're going to incorporate all that you've asked them to do. At the college level, the toughest part is time. Everyone has a different schedule. I wanted to do 12 Angry Jurors because we could have so many cast members. But this meant that we also had to work with twelve peoples' schedules."
With regards to time, Shelli only has fourteen weeks and a few hours each week to work with the entire cast.
"When you're working at a professional level, people are contracted for several weeks and they rehearse every day from 9-5. Here, anything can happen. People get sick, become overwhelmed with school work and things just happen. So, it's difficult to make sure you have enough time to work with everybody so that we can really get done all we need to do before opening night."
"This is my third production here at Bucks working with Shelli," says Tricia McLaughlin, 28, a Boston native currently attending Bucks as a Communications/Performance major. "She is a talented director, allowing ease of communication with her actors. Her standards are high and she makes you want to exceed them."
Outside of Bucks, Shelli is passionate about something else: animal rights. "It's why I don't eat meat." Shelli says. "And all my animals are rescues." Currently, Shelli lives at home with her husband, Matt Bookler whom she met at an audition for Urinetown. "It's so nice that I get to tell my friends that I met my husband in Urinetown," she laughs. "They really get a kick out of it. Matt does not act professionally, but as a hobby. Shelli and Matt make it a goal to once a year work on a production together.
Something else that Shelli really enjoys doing with her husband? "Riding in his race car!" Shelli exclaims. "It's like a roller coaster." Is she scared about him being on the track? "Oh, no! I know he knows what he is doing and that the people that he is racing are trained professionals as well. I've been in the passenger seat a few times. It's fun!"
Keeping her company when her husband is at work is her dog Pumpkin, a blonde cocker spaniel that she rescued from Last Chance Ranch in Quakertown and her cat Willow.
Interested in seeing Shelli's hard work and dedication in action? Come out to see 12 Angry Jurors on April 26, 27 and 28 at 8:00 pm. Tickets are just $7 for students and $10 for general admission.
"You will not be disappointed," says Jenniveve Sadowski, 20 of Richboro, PA, Juror Twelve in the production. "Shelli is, by definition, a professional."